What kind of a value could you place on historic photos of JFK presented by the photographer himself?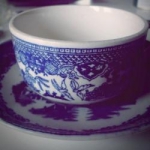 Rose Heichelbech
It would be hard to forget what you were doing during the biggest events in American history, and the news stories live on as a testament. But imagine if you had been there to take photographs. What kind of a value could be placed on first-hand accounts of some of the most important days of a president's life and death? This fascinating Antiques Roadshow clip covers just that. White House photographer Cecil W. Stoughton took pictures for the Kennedy administration from 1961 until 1963 and, as he describes, witnessed the assassination of President Kennedy.
During his time as First Photographer, Stoughton took approximately eight thousand images of JFK and his family, effectively documenting an unusual time in American history when the president had a young family. One of the most famous images of Stoughton took, Lyndon B. Johnson being sworn in on November 22, 1963, has served as a poignant reminder of the assassination, with Jackie so dutifully looking on in this historic photograph. In the following clip Stoughton describes his time as the official White House photographer and shows us some of his signed photographs of the presidents. Hear his first-hand accounts and discover how much his photographs appraised for below.
Check out some lesser-known facts about JFK and Jackie here!