You've heard of the hurdy gurdy, now hear the new wheel harp in action!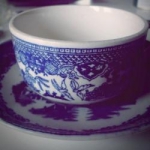 Rose Heichelbech
From simple to elaborate, new kinds of instruments bring us novel sounds that remind us of the past while also looking ahead to the future. For the designers of the wheel harp, Jon Jones and Mitchell Manger, simply making a lovely-sounding instrument was not enough. They wanted to make a visually stunning piece to rival the contraptions of yore. The carved rosette is the centerpiece of this petite yet striking sound machine, while the cabriole legs add a Queen Anne influence to the design. It looks like it could have been in the home of a well-to-do Victorian family, yet this new-fangled device was only released in 2013. The principle of the instrument is similar to that of the medieval hurdy gurdy.
Unlike the hurdy gurdy, though, the wheel harp uses a pedal and expanded keyboard. The eerie sound is produced when the strings are vibrated (triggered by the pedal). We love the curved keyboard in the video, but they make a flat keyboard version as well. These handmade instruments are not cheap, but they produce a sound unlike any other. If you can't afford to run right out and buy one, have a listen to composer Nicholas Pike playing this fantastic piece of musical equipment. If you want to skip the introduction and just hear the music you can start the video at 1:07.