TUNA N' WAFFLES, LIME CHEESE SALAD and six other classic recipes that prove just how quickly popular tastes can change.
In the days before 12 Tomatoes and Cooks Illustrated, food marketers developed recipes for audiences with… somewhat less sophisticated tastes.
1. JELL-O LIME CHEESE SALAD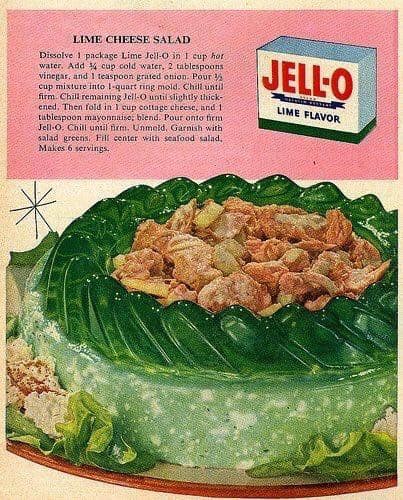 It's another crowd-pleasing hit from the people who turned horse hoofs into cheap and tasty desserts! JELL-O's LIME CHEESE SALAD appeals to those looking to combine the major food groups of gelatin, dairy, protein, citrus and sugar into one delectable delight.
NEXT PAGE: What's more fun than FISH FINGERS?