This is what it's all about!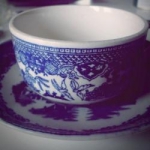 Rose Heichelbech
In 1959 the Isley Brothers wrote and recorded a song that would be the anthem for young people for years to come. Little did they know that their hit would be covered by so many influential artists. While we love the Beatles' version, there is nothing quite like the cover of "Shout" that the Shangri-Las do! This girl group really gets it right with this classic feel-good song. They appeared on The Lloyd Thaxton Show in 1965 to perform this wonderful tune and they do it with such gusto!
Some remember this group as a quartet while others swear they were a trio. The Shangri-Las were a group of four, the Weiss and the Ganser sisters, but Mary Weiss was taking classes for part of the group's most successful period. She's absent here, but the girls still give a stunning show. Just see if you're not smiling after watching these ladies deliver a smashing rendition of this cheerful hit. If you're on the hunt for more classics, then check out this hit from Little Eva.