This fun style is back with gusto.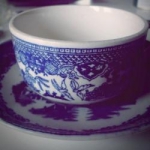 Rose Heichelbech
We all grew up with some version of this flooring- speckles of various sizes embedded in a solid background, usually found in schools because of the durable nature of this type of flooring. High end versions seem to sparkle from within, while more budget-conscious styles were made from a single sheet of linoleum in only two or three colors. This style of flooring first became popular in 15th century Italy, but now is making a comeback in some unexpected places.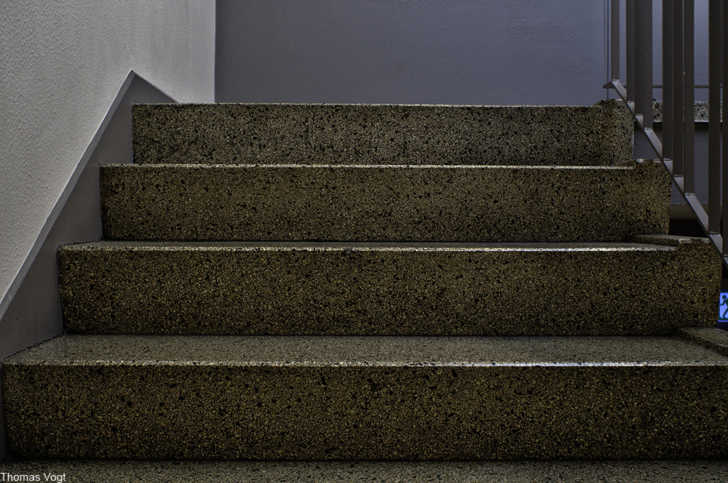 Terrazzo flooring originated as a way to make decorative and cost effective flooring that was also highly durable. The chips of marbles and stone used for the random design of the pavimento alla Veneziana (or Venetian Pavement) and seminatostyles involves setting them in some type of cement flooring mixture. The color combinations that result can vary wildly, something which makes it an easily variable decor element.
Between 1930 and 1970 this style of flooring was extremely popular in the U.S.- not only in institutional settings but also for kitchen or laundry room flooring. Companies like Armstrong ran with this style in linoleum, creating popular "splatter" designs which mimicked the classic stone and cement flooring.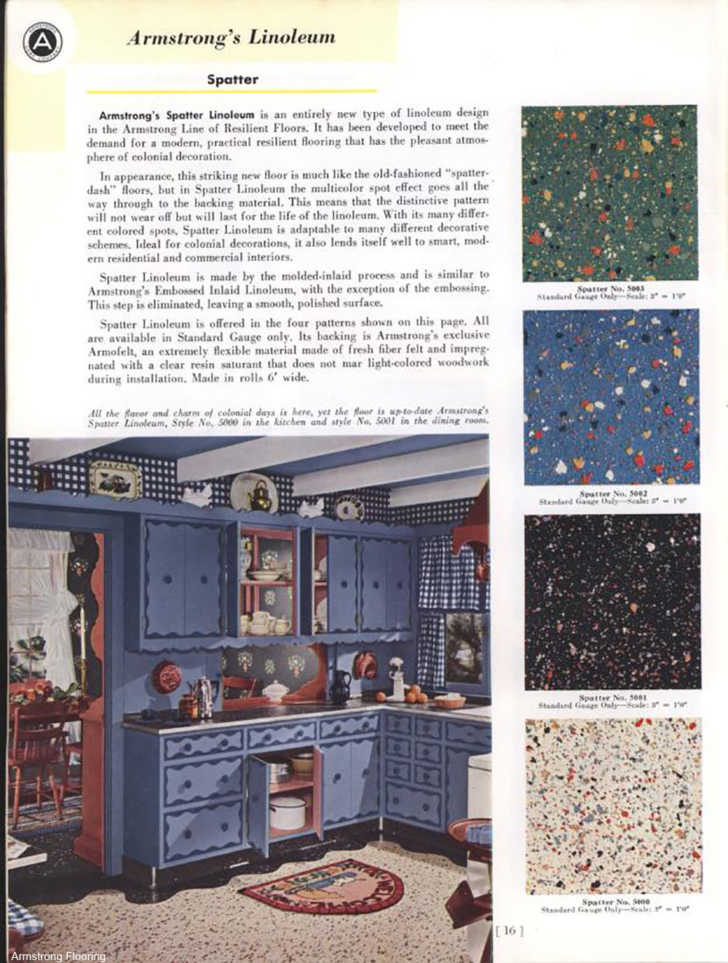 Today, this kitschy pattern is making a comeback, albeit in unexpected places. From phone cases to dishes to rugs and other homewares, this pattern can be found today on a great many items. The fact that all of us grew up with this type of flooring makes it somehow a very comforting sight. However, done in pretty pastels or unexpected color combinations the pattern bears some similarity to TV static or the designs of the Memphis Groupthat inspired the look of the late 1980s and early 1990s.
For some the pattern is near to an animal print, especially when done in only two colors. This makes it nearly a neutral, which is often how folks back in the 1950s thought of patterned items.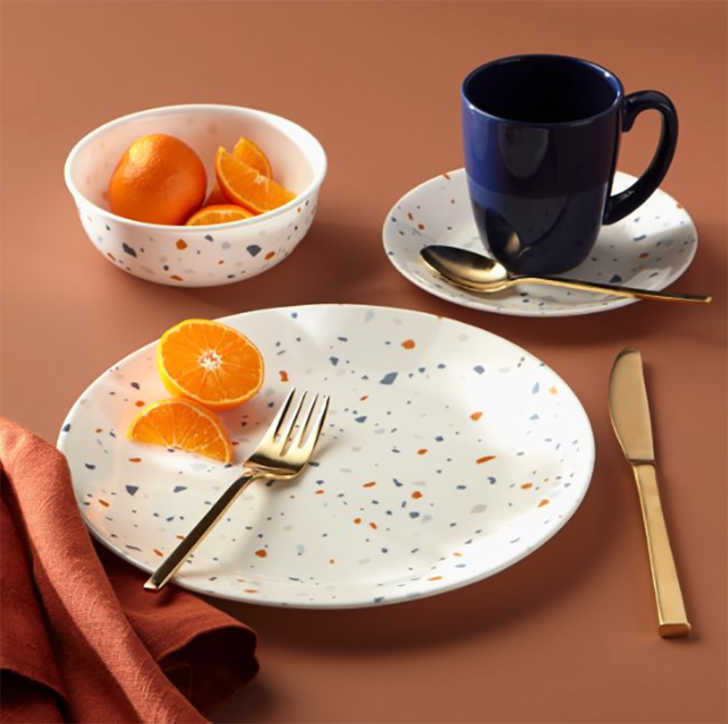 This most recent iteration of the trend got started back a few years ago, but appears to still be going strong. So, basically, if you were thinking this would make an ideal addition to your decor then you aren't alone. For an updated twist on this classic pattern, a wallpaper or fabric would perfect. Or you could use the engineered marble in oversized terrazzo as countertops and backsplashes which has been gaining popularity for some time now. Otherwise you could just use it on the floor the old fashioned way.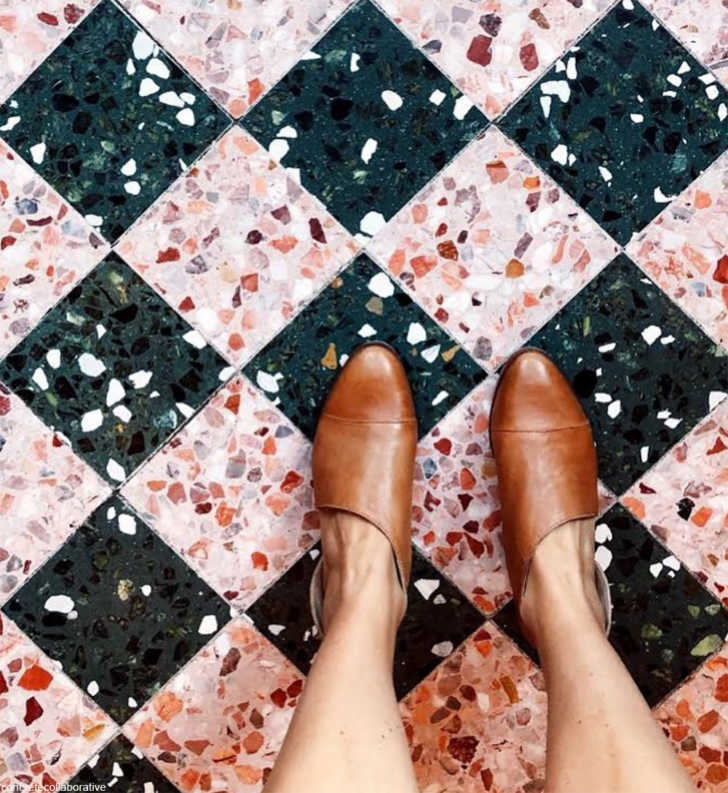 The pattern also resembles the confetti designs, now popular on everything from soaps to earrings to notebooks. The general speckled nature of these patterns has an inherently fun yet understated sensibility, something which effortlessly connects the Mid-century Modern styles of the 1950s to the design trends of today.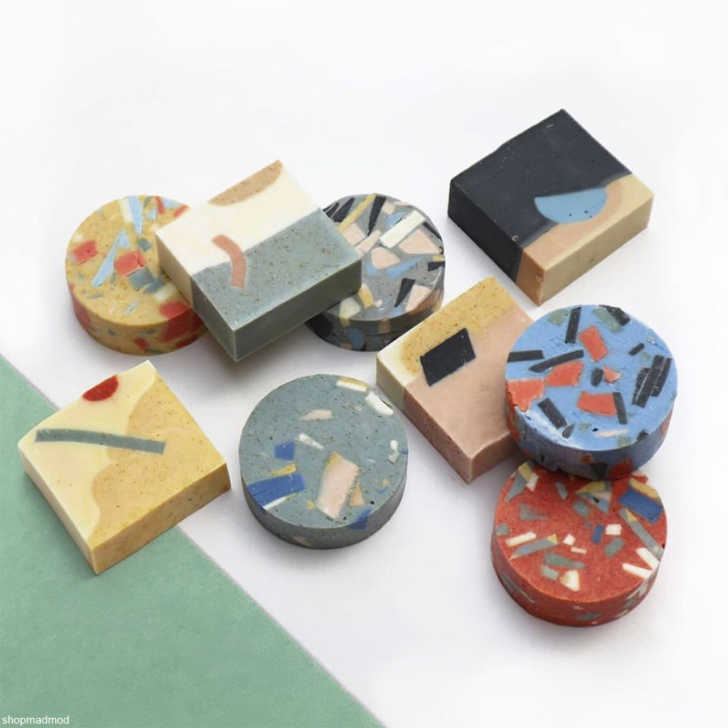 What do you think of this trend? Does it remind you of the Old Days? Or does it look hip and fresh?