His voice is just as smooth whether he's crooning or singing honky tonk.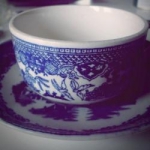 Rose Heichelbech
In the early days of television on The Perry Como Chesterfield Show in 1951, Hank Williams had performed the song "Hey Good Lookin'" to the acclaim of Como himself. Sadly, no film footage of that performance survives today and the show was too short (15 minutes long) to make way for the two to do a duet. Hank Williams passed away only 1 year later.
Como was so taken with Williams' tune that the next week after his appearance on the show Como decided to give the tune a spin himself, in a 10 gallon hat no less! Backing vocals were provided by the Fontane Sisters, though in the banner behind them we can see that for this performance they are billed as "Cactus Como and the 3 Skunkville Violets." It's not often that you hear Perry Como playing the guitar or singing country so this is a rare treat and a fitting homage to one of the greatest country and western performers of all time! Have a look in the video below.