Overcome with emotion, San Francisco 49er Marquise Goodwin collapsed in the end zone Sunday, following an 83-yard touchdown catch. Later, Goodwin shared the source of his grief: His infant son died hours before the game.
San Francisco 49er Wide Receiver Marquise Goodwin and his infant son. | Marquise Goodwin/Instagram
NFL star Marquise Goodwin's emotional on-field display sparked a viral outpouring of empathy and emotion after Goodwin revealed his infant son died just hours before the game.
Goodwin's grace and humility in sharing both his mourning and the details of his family tragedy have since resonated with millions.
On-Field Collapse
But initially, viewers were puzzled when — following an 83-yard touchdown reception — the 49er wide out collapsed in the end zone, visibly overcome with emotion.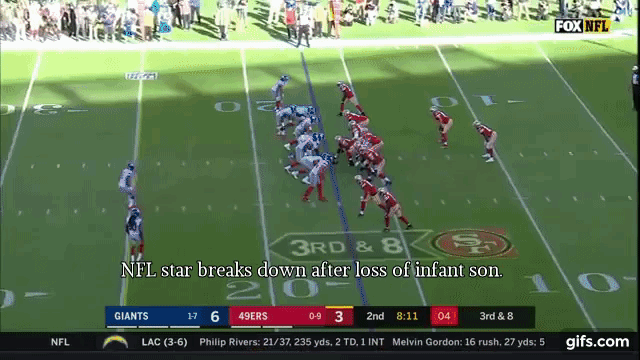 "We lost our baby boy."
After the game, Goodwin shared the news of his personal tragedy with the world.
"We lost our baby boy this morning," Goodwin said simply.
Goodwin continued on to express thankfulness and gratitude for the health of his wife, Morgan.
"Although we are hurt, I am grateful for the experience and grateful that God blessed me with a wife as courageous and resilient as Morgan. The physical, mental and emotional pain that Morgan has endured is unbelievable," Goodwin said.
"Please Pray for the Goodwin family."
Read on to see how this amazing couple is transforming their grief into an inspirational message for all.