These will be cherished by the family for many years to come!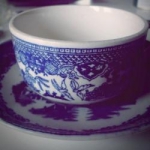 Rose Heichelbech
Over the decades, there have been so many times that women have worn their mother's or their grandmother's wedding dresses, sometimes altering them to fit. In may cases, though, the dresses simply don't survive for very long. The delicate lace and satin, the silk and the beads, can sometimes fall apart over the years, no matter how carefully it's been stored. That's why one newly wed woman wanted to enjoy her dress now and not wait for her daughter to wear it years later (if it even made it that long). So, she asked her mother to help cut the dress up and make something new and what they came up with is something really special.
First, the mother of the bride was asked to make something for the kids to play with. Brenda Wetmore Giffen did not make her daughter's dress, but has lots of sewing experience. She has a business making keepsakes, something which she has gotten many requests for after sharing what she and her came up with.
Giffen's daughter, Robyn, wanted some ways to enjoy the dress without the expectation that it might be worn again by any of her children decades later. She wanted a play tent for her kids, and maybe some pillows and as the project got rolling there were lots of other requests along the way. Giffen did all that and more and the results are absolutely stunning!
There were some other toys made as well, and look how cute they turned out.
Giffen also made a necklace with some of the lace since jewelry making in another of her many skills! The center bauble has a bit of lace from the dress, while the bauble at the back has the couple's wedding date and their names. Giffen cut the fabric for this pendant from the lace that was worn closest to Robyn's heart. How special this is!
There are also two garters she made, trimmed in blue ribbon, just in case it's needed for a future bride in the family. They've basically turned one keepsake into many, something which the kids and grandkids may really appreciate one day down the line.
Giffen's granddaughter here wears a tutu she made from Robyn's wedding dress as well.
Of the endeavor Giffen said this on her Facebook page: "It's been challenging, a little scary, lots of fun, and probably the major creative project of my lifetime!"
We love how these toys and keepsakes turned out and those toys will certainly be family heirlooms one day! What do you think of how this family mother-daughter duo handled this wedding dress? Could you do this to dress for someone in your family?