Wow, this is a very welcome blast from the past!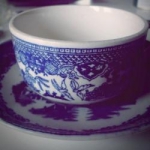 Rose Heichelbech
In 1964 Marvin Gaye performed one of his hits on The T.A.M.I. Show (Teen Age Music International), a huge televised concert held at the Santa Monica Civic Auditorium featuring stars like James Brown, Diana Ross, and The Rolling Stones. The song "Hitchhike" was released in 1962, but considering how much the fans in the audience are screaming we'd say they loved the song just as much in 1964!
This performance really is one of a kind and very special not just because of the vocal performance, but because of those incredible dancers. The Hitchhiker was a simple dance which primarily consisted of dancing while either one or both of your thumbs were up as if hitching a ride. And, it looks like a young Teri Garr is one of the dancers, too! Garr got her start dancing in the early '60s so this makes a lot of sense!
While this song was by no means Marvin Gaye's biggest hit of the early '60s ("Pride and Joy" and "Can I Get a Witness" were released around the same time to much better record sales), it's a great reminder of the fun dances that came in and out of fashion during the decade. Have a look in the video below.