There's nothing quite like these quaint homes.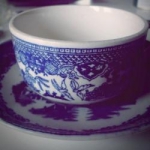 Rose Heichelbech
The traditional farmhouses in Ireland are most often wattle and daub, made from mud, manure, and straw with timber beams. The outside was covered in whitewash to brighten everything up. Some homes were made from stacked stones, with clay in between or even dry stacked.
The roofs were made from layers of thatching and there were usually only a few windows here are there. Families heated their homes and cooked both over a hearth which always had a fire going. For the Irish farmers of the 18th century a variety of factors made life exceptionally difficult for them.
Tenant farming, much like in the U.S., often left families in poverty and owing the landowners for generations. And then the Potato Famineof the 1840s caused the deaths of around 1 million Irish people and forever changed the island when her people left in droves for lands where they hoped they wouldn't go hungry. Those who stayed in the Irish countryside often faced abject povery and lived very humble lives. Their homes were never filled with fine decor, or running water, or electricity, but they had a beauty to them that is unmatched. Here's a look into the traditional farmhouses of Ireland in the 1800s.