This one never fails to put me in a good mood!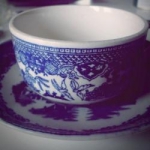 Rose Heichelbech
There are so many entertaining scenes in the the 1952 film Singin' in the Rain, but one of our all time favorites is the Good Morning Song. There's nothing else like it to put a smile on our faces and make us remember why we love old musical so much. The young Debbie Reynolds is just charming with her bobbed hair and drop waist dress- a perfect compliment to the incomparable Gene Kelly and the hysterical Donald O'Connor. In Reynolds' early days of film she had a sweet look with her bobbed hair, after she became Debbie that is (her given name was Frances).
In the clip below these three perform the classic number which might just be the best scene from this film- some would say it's even better than Gene Kelly's solo in the rain! Have a look below at this uplifting song and dance scene. And, you can see another clip of a young Debbie Reynolds by clicking here.