It was one of the most popular shows at the time.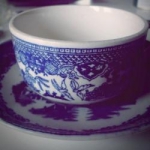 Rose Heichelbech
In its original format The Dating Game ran from 1965 to 1973, but had revivals that lasted until 1999- at which point American television was completely different to when the show first debuted in the 1960s. Each episode a series of questions would be lobbed at the potential daters- in what was sometimes an awkward exchange. Young up-and-coming actors and models often appeared on the Hollywood-based show, such as Tom Selleck, Suzanne Somers, Farah Fawcett, Phil Hartman, and Lee Majors. So, it's no surprise that sometimes 2 such personalities could be on the show at the same time. In this case it was Steve Martin and Deana Martin.
At the time this episode was filmed in 1968 Steve Martin (sans gray hair!) was only 23-years-old and was already writing for the Smothers Brothers. The female contestant of the game was only 20 at the time and she was of course Dean Martin's daughter, Deana, who was already appearing on the stage in musicals and on TV singing with her father. For this appearance she was blonde (not the look she was most famous for as she's a natural brunette like her dad).
One of Deana's questions was, "There's something wrong with dating- what is it?" to which Steve Martin replied, "Dating is really the worst" before explaining that his ideal would be to meet someone by chance.
Have a look back at this fun show and how the contestants handled the questions (and where the couple got to go on their date) in the video below.