These kids look like they're having a smashing good time.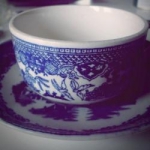 Rose Heichelbech
American Bandstand introduced the Cha-lypso, a specially-for-teens version of the Cuban dance the Cha-cha-cha in 1957. The dance features quick steps and plenty of turns at a pace that's easily performed to the songs of the day that were topping the charts. The Cha-lypso is even mentioned in the Danny and the Juniors song "At the Hop." Do you remember doing this lively dance?
A wonderful clip from American Bandstandthat same year features kids dancing to the tune of the Billy and Lillie hit "La Dee Dah" (on Casino Records). We love seeing the kids do the Cha-lypso to this lovely song. Along with a handful of other songs this was one of THE Cha-lypso songs of the era.
The dance was quite popular until the Twist took over around 1960 and the Cha-lypso and most other fad dances had to make way! Have a look in the video below.