"THIS PROVES THAT MY SENTENCING INSTINCTS SUCK" Admits Judge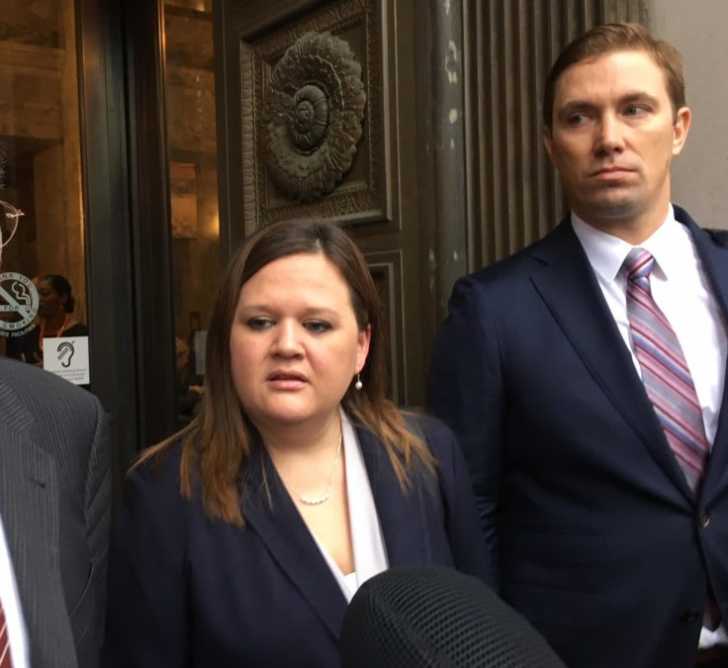 Before famously interceding with the Washington State Supreme Court on behalf of teen mom/felon-turned-lawyer Tarra Simmons, Shon Hopwood was best known for his own dramatic path from convicted bank robber to jailhouse lawyer to Georgetown Law Professor and author.
But before all that, Shon Hopwood was just another inconspicuous God-fearing farm kid from Nebraska.
Hopwood grew up in a Christian home outside David City, Nebraska, approximately an hour's drive northwest of Lincoln.The eldest of five siblings, Hopwood excelled both on standardized tests and on the basketball courts, earning an academic scholarship to Midland University.
At Midland, Hopwood became disillusioned and began to see himself as nothing more than a mediocre talent. He stopped attending class and left the university.
After leaving school, Hopwood joined the United States Navy and was stationed in the Persian Gulf, assigned with guarding U.S. warships. While in Bahrain, Hopwood almost died from Acute Pancreatitis and was – as a result — discharged from the Navy.
Bank robbery
Hopwood pled guilty on Oct. 28, 1998, to robbing several banks in Nebraska and was sentenced to 12 years in prison and ordered to pay $134,544 in restitution.
The judge who presided over the trial later revealed that he was stunned by Hopwood's eventual transformation and even humorously admitted that got Hopwood wrong.
"Hopwood proves that my sentencing instincts suck. My gut told me that [he] was a punk — all mouth, and very little else. My viscera was wrong," U.S. District Judge Richard Kopf said.
Hopwood served his prison sentence at Federal Correctional Institution, Pekin, spending five weeks in solitary confinement – a practice which he would later criticize.
Hopwood prepared his first legal petition for a fellow inmate on a prison typewriter in 2002.
Since Hopwood was not a lawyer, the only name on the brief was that of the other prisoner, John Fellers.
However, Hopwood's petition traveled all the way to the United States Supreme Court one of 7,209 jailhouse petitions to do so that year – of which only eight were heard. Hopwood's would be one of the eight.
As a result, Hopwood found himself working with Seth Waxman, a former U.S. Solicitor General to prepare for arguments in front of the Supreme Court Justices. Waxman stated that Hopwood's original petition (for writ of certiorari) "was probably one of the best (he had) ever seen".
In Fellers v. United States, The Court, in a 9-0 decision, found that police had acted unconstitutionally in questioning Fellers, who had been convicted of a drug conspiracy, and Fellers's sentence was ultimately reduced by four years.
Three years later, the U.S. Supreme Court granted a second cert petition prepared by Hopwood, vacating a lower court decision and sending the case back for a fresh look.
While incarcerated, Hopwood helped inmates from Indiana, Michigan and Nebraska get sentence reductions of 3 to 10 years from lower courts. He also won honorable mention in the PEN American Center 2008 Prison Writing contest.
A Free Man
Hopwood was released from the custody of the Bureau of Prisons on April 9, 2009 and later earned a Juris Doctorate from the University of Washington School of Law, where he was a Gates Public Service Law Scholar before clerking for Judge Janice Rogers Brown of the United States Court of Appeals.
On September 4, 2014, the Supreme Court of Washington approved the recommendation made by the Character and Fitness Committee of the Washington State Bar Association, permitting Hopwood to take the Washington bar examination, which he passed in 2015, becoming a licensed lawyer in the State of Washington.
Later that year, Hopwood accepted a position as a law professor at the Georgetown University Law Center.
Hopwood's memoir, Law Man: My Story of Robbing Banks, Winning Supreme Court Cases, and Finding Redemption, was published in August 2012.
In the memoir, Hopwood details his experiences as a jailhouse lawyer and his romance with his wife, Ann Marie Hopwood, whom Hopwood met via an exchange of letters during eight years of his imprisonment.
In his spare time, Hopwood volunteers as a criminal justice advocate focusing on the need for federal sentencing and prison reform.
In 2017, Hopwood appeared again before the Washington State Supreme Court on behalf of Tarra Simmons, who was appealing a Moral Character and Fitness determination that barred her from sitting for the WSBA Bar Exam. The court overturned the lower ruling and allowed Simmons to sit for the bar.
More: Read about Tarra Simmons harrowing journey from teen mom to convicted felon and finally to law school.
---
References:
Santos, Michael. "The inspiring story of an ex-bank robber who turned into America's best jailhouse lawyer". Business Insider.
Long, Katherine. "Former bank robber helped by Gates fund now professor at Georgetown Law School". Retrieved 8 April 2017.
Svriuga, Susan. "He robbed banks and went to prison. His time there put him on track for a new job: Georgetown law professor". Washington Post. Retrieved 25 April 2017.
Hopwood, Shon; Burke, Dennis Michael (2012). Law Man: My Story of Robbing Banks, Winning Supreme Court Cases, and Finding Redemption. Crown.