This story originally appeared at American Web Media.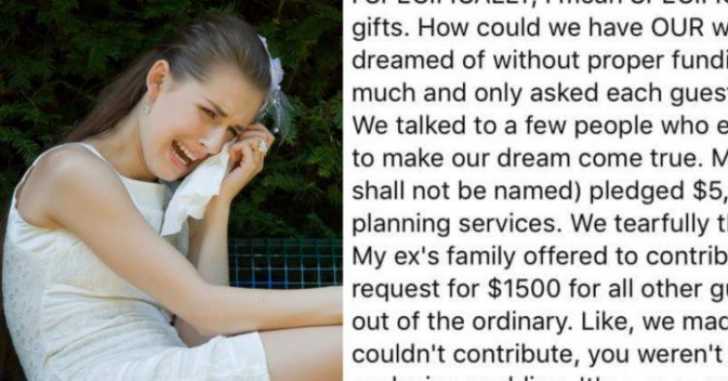 Being a bridesmaid — or even a guest – can be a costly endeavor, but the expenses really add up when you're expected to finance part of the wedding.
Unfortunately, one anonymous bride, Susan, didn't see anything wrong with asking her guests to help crowdfund her effort. Nowadays American weddings cost about $30,000 a pop, but Susan had expensive tastes. She and her fiancé managed to save $15,000, but they would need guests' help to raise the rest of the $60,000 that would allow Susan to live like a Kardashian for the day.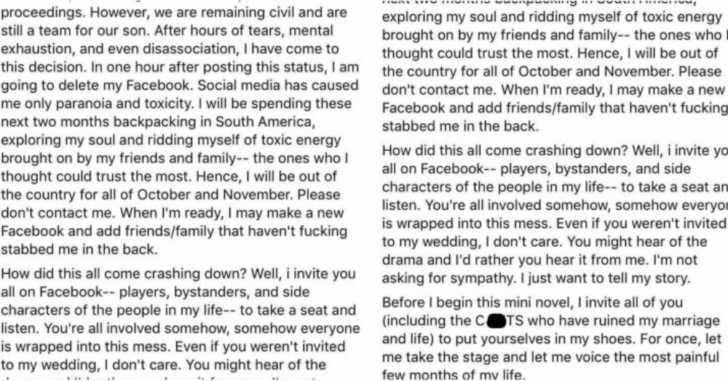 Unfortunately for Susan, her expensive demands meant that only eight people responded to her invitation. Later the bridesmaids would start to have issues with the bride's method operandi. Eventually the groom even offered to relocate the party to a Vegas wedding chapel.
As the bills came due, the couple tried to set up a crowd-funding page, but only managed to raise $250, which eventually forced the couple to call off the wedding four days short of their big day.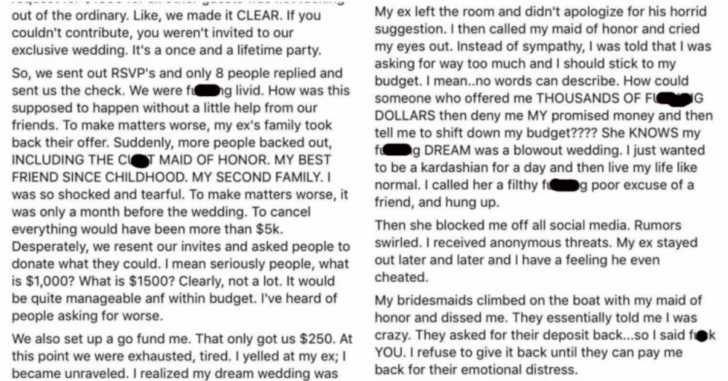 "I SPECIFICALLY, I mean SPECIFICALLY asked for cash gifts," the angry bridge vented in one post. "How could we have OUR wedding that WE dreamed of without proper funding?" she whined in true Kardashian fashion. "We've sacrificed so much and only asked each guest for around $1,500."
"I need to get away from this awful society," Susan continued in her profanity-laced post. "How hard would it have been to … donate, friends? Do I matter to you? Just give me the f***ing money for my wedding."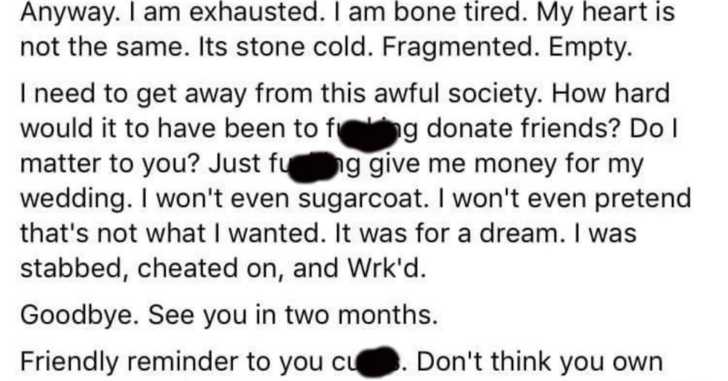 Not so surprisingly, the fiasco ended up ending the couple's relationship, though this isn't really a shocker considering Susan's obscene levels of self-involvement. Afterwards, she fled to South America to go backpacking for two months and regroup. Hopefully, temporarily escaping America's Kardashian culture will bring this former Bridezilla back down to earth.
What do you think of this story? How would you react?