They broke the mold with him. Rest in peace.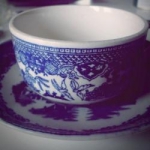 Rose Heichelbech
Younger generations might not know him, but the longtime DJ Art Laboe was very influential in the 1950s and 1960s. His career took off in Southern California where many came to know him for his radio programs as well as his TV show, The Art Laboe Show– an American Bandstand style show featuring kids dancing to popular tunes of the day. Sadly it was announced that he passed away on October 7, 2022 after contracting pneumonia. But, his legacy certainly lives on.
Laboe was raised Mormon during the Great Depression in Salt Lake City by a single mother of Armenian decent. He enlisted in the Navy during World War II and ended up going to Stanford University. He later went on to host live music radio events for KXLA in Los Angeles. His outdoor events at drive-ins gathered some of the first rock and roll and rockabilly musicians. And, his name grew based on that alone. So when Elvis first came to LA Laboe was one of the only professionals to land an interview with the King.
His events attracted Black, Latino, and white audiences, helping to desegregate parts of the Southern California music scene. His live events became so popular that he began to hold them outside the city limits to handle the large crowds. Because of this the dances and events were not subject to the segregation laws of the city, meaning all were welcome to attend.
In a 2013 interview with Urban Melody Television & Production Laboe said that in the 1950s dances for teens within the city had to be sanctioned by the Board of Education, which did not permit integrated dances. These events, rather than being concerts, would offer a performance and then a dance, referred to as a "show and dance".
It is with deep sadness we report the passing of legend Art Laboe, he was 97. He died peacefully at his home in Palm Springs, CA on Friday night, October 7, 2022 after a short case of pneumonia.

Condolences to Art's legions of fans, family, friends, and colleagues. pic.twitter.com/RN6UR3ONpk

— Art Laboe (@ArtLaboe) October 10, 2022
In the mid-1950s he coined the phrase "Oldies But Goodies" and later registered the trademark for the phrase and released a compilation album called Oldies But Goodies: Vol. 1 in 1958 which stayed at the top of the charts for 183 weeks! This was one of the first compilation albums and launched the genre into the public view.
Later in his career his radio shows were a touchstone for the families of incarcerated people who would send dedications to loved ones through his show, including a time when a mother brought her young child to the station to tell his father he loved him. It was the first time that the inmate had ever heard his son's voice. Laboe later said that it was an honor to be a part of this and that he didn't judge people. He is believed to be the first DJ to offer dedications on air and he didn't discriminate based on race who could send a special message to their loved ones.
He was inducted into the Radio Hall of Fame in 2012. He was given a star on the Hollywood Walk of Fame in 1981. And, he continued to record radio programs up until just a few days before his death. His last show was broadcast just two days after his death at age 97.