These chairs are true American classics.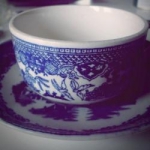 Rose Heichelbech
You may not know you know them, but rest assured you know these chairs. Hitchcock chairs have been a staple item for antique dealers for the better part of a century. With their Early American meets Second Empire styling these chairs evoke some of the best of American design work. There are many imitations on the market so let's learn a little bit more about these famed chairs and how to identify them.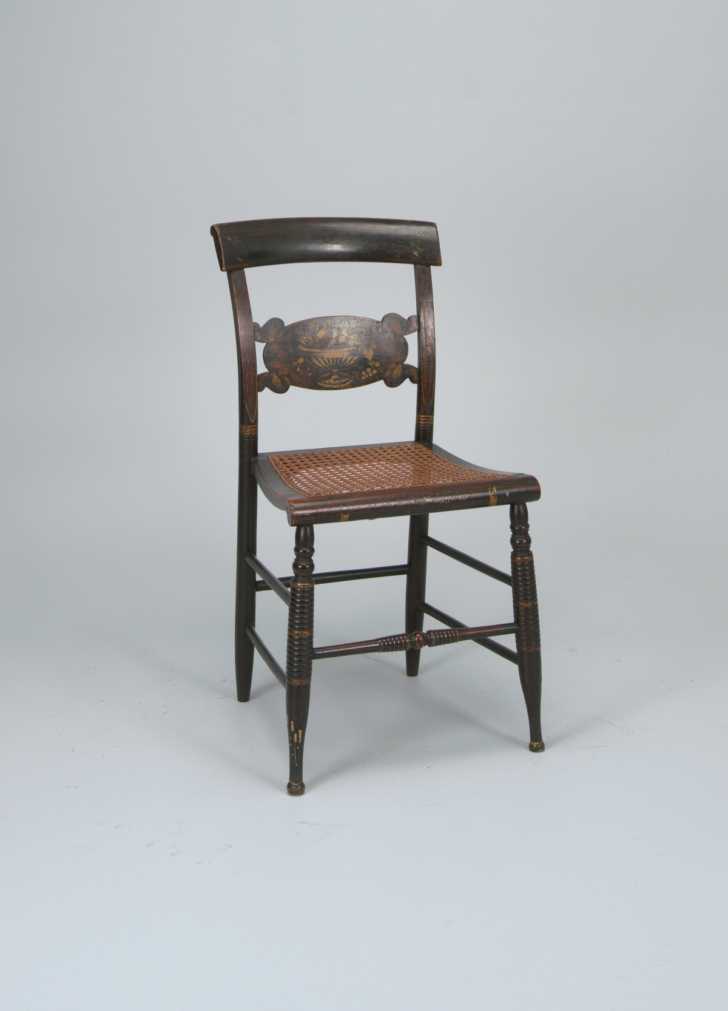 Lambert Hitchcock opened his chair factory in Barkhamsted, Connecticut, in 1819 – a time known to many in the antiques business as the Federal era. The Federal era roughly covers the years 1790-1830. Furniture from this era is particularly prized and sells big at auction today. Up until this point woodworkers had to make each part by hand one at a time. But, master woodworker Hitchcock devised a new plan for making wooden furniture after having made replacement chair parts sold to traders who in turn sold them to pioneers. Later he made kits for making one's own chairs.
Hitchcock was inspired by manufacturers of watch parts that made many duplicates of the tiny metal pieces- all of which fit perfectly into their respective mechanisms. His idea was that wooden furniture pieces could also be mass produced and then fitted together to form chairs that looked as if they had been made by hand. This type of concept was about 100 years ahead of its time when Arts and Crafts style furniture, decor, and even kit homes were mass produced to look like the slower, handmade versions that had been mainstays of the movement before then.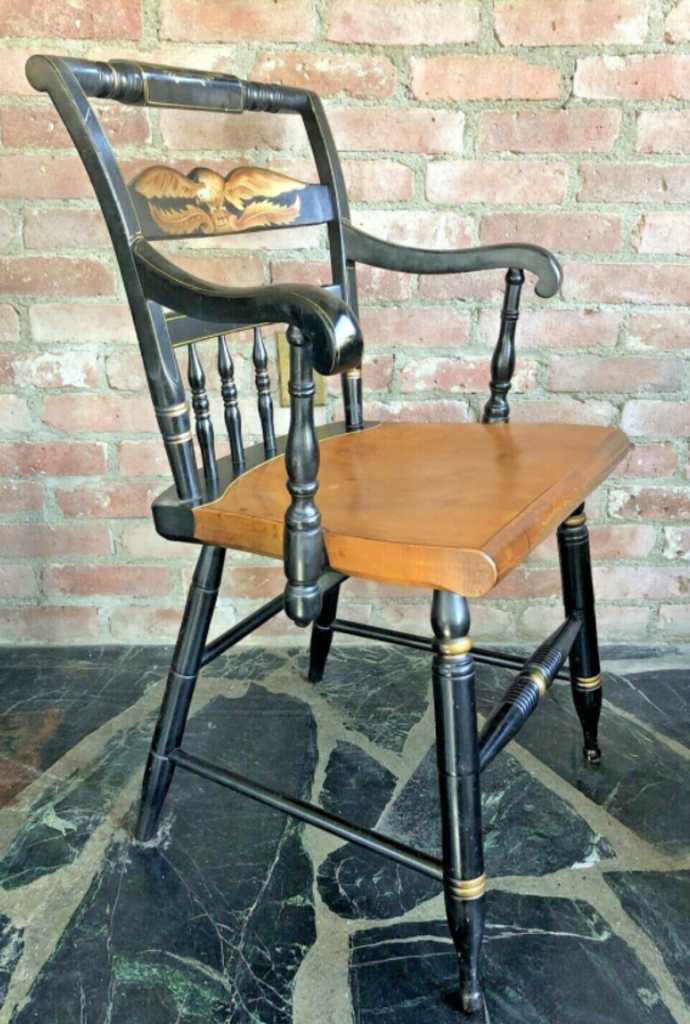 Hitchcock saved on labor costs by stenciling the backs of his chairs instead of carving them. The usual formula was to apply a gold stencil design onto the upper portion of the chair using metal stencil plates– a new technology that came form England.
The usual colors were black, dark brown, or forest green chairs with metallic stencil designs. But, other variations where the chair was lighter and the stencil darker were also made. The details of the chair would then be accented through pin striping paint detailing along the turned legs and at other design features. Rockers were also a popular type of chair made by Hitchcock and they also made armchairs and Windsor chairs as well.
The seats of these iconic chairs were often made from cane, but other variations in wood and in rush existed as well. The increase in output that Hitchcock's new methods allowed for meant that the price was more affordable and the chairs more plentiful. This enabled many middle class families to afford the so-called " fancy chairs" for their own homes. Back then a new chair would have cost around $1.50 (the average per capita income at the time was around $1,200 per year).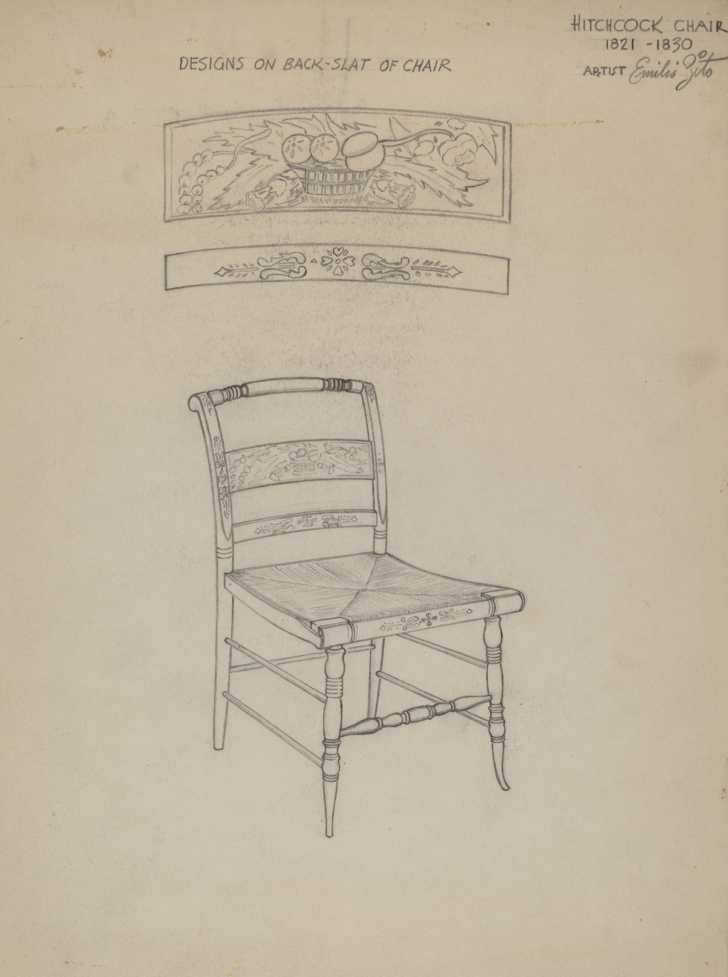 Hitchcock chairs became emblematic of the New England style and later came to represent the style of the new republic and so there have been many copies over the years. The imagery of the stencils often centered on leaves or flowers, something also common to European style tole painting. But, it wasn't only only flowers that were featured on the painted backs of these chairs. Scenes of country life, patriotic eagles, or baskets of fruit were also popular designs.
The Hitchcock Chair Company remained in business until 2006 when they finally shuttered their doors. However, the brand was revived in recent years. They are still operating today and even offer restoration services through Still River Antiques.
With such a long history how you can you tell if you have an antique Hitchcock chair or a newer one?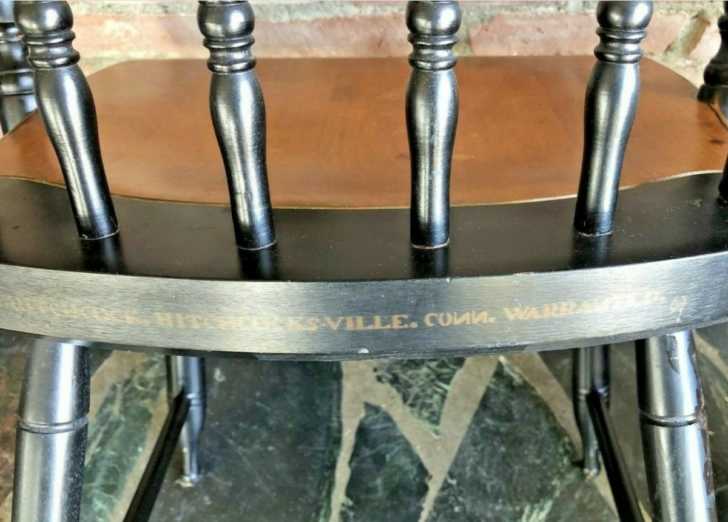 There are 3 main marks that have been used for authentic Hitchcock chairs over the years.
L. Hitchcock. Hitchcocks-ville. Conn. Warranted
Hitchcock, Alford & Co. Hitchcocks-ville. Conn. Warranted
L. Hitchcock. Unionville. Conn. Warranted
Some iterations of the maker's mark show the 2 Ns in Connecticut as backwards which some believe is an artifact of the poor literacy of the workers in the Hitchcock factory. This quirk has remained on subsequent Hitchcock chairs. Newer chairs and limited editions were often marked with the year on the backside as can be seen in the image below.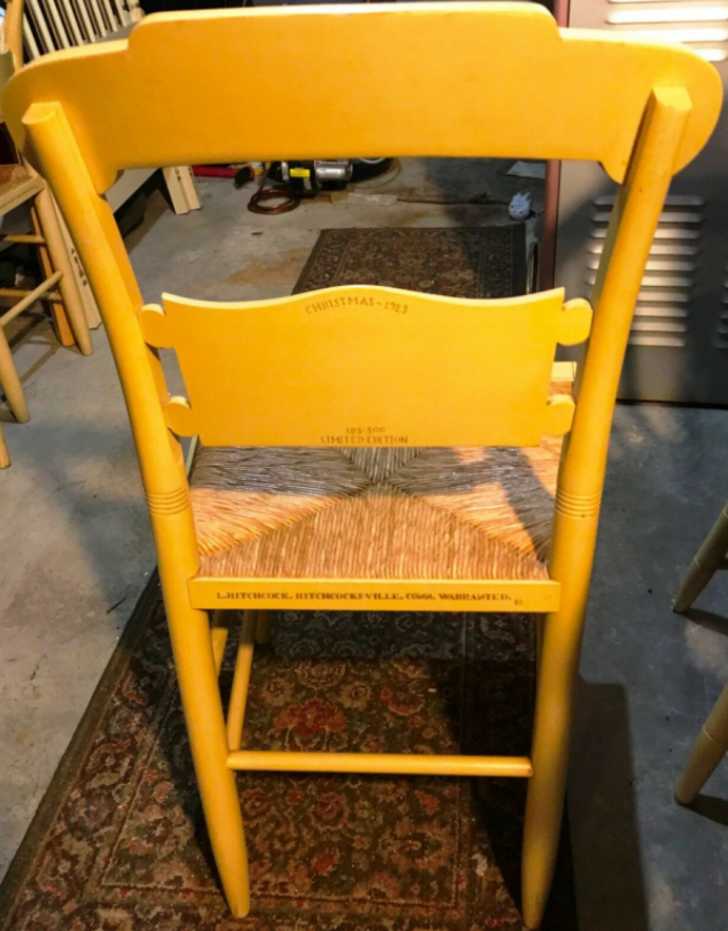 There are many similar styles of chairs that have been made over the years, many not as direct copies but made as fashionable pieces with that New England antique flair. A genuine Hitchcock chair with verified markings will usually cost around $200-$300 per chair, but can cost close to $1,000 a piece for rare or mint chairs. But, considering the long history of the company you will sometimes see any similar style of chair sold as a Hitchcock chair so make sure to check on the markings and the decals.
Sadly the maker's mark and the back stencils can wear off over time and this can certainly affect the value. We've seen genuine Hitchcock chairs with damage to the paint or finish sell for as little as $50.