How many of these do you remember?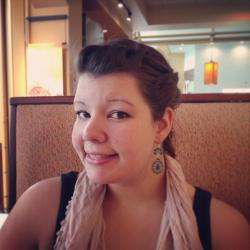 Jessica Griggs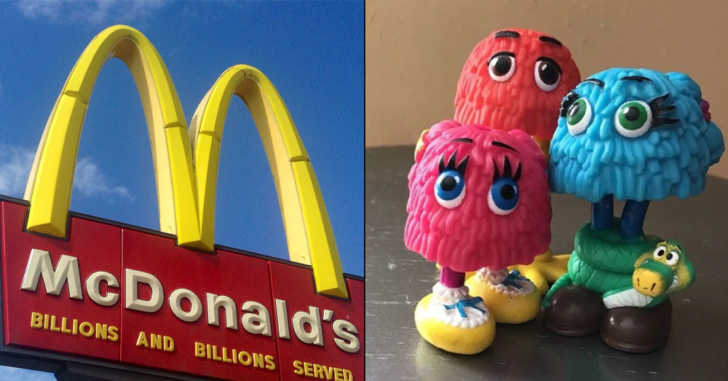 McDonald's evolved from a family-owned restaurant in 1937 to one of the most successful fast food chains in the world. In 1948, the McDonald brothers streamlined the menu from barbecue items to hamburgers, fries, and shakes. Then, in 1952 McDonald's picked up the famous golden arches logo that is recognizable across the globe. From there, franchises were sought out, and the McDonald brothers were well on their way to making history. The Big Mac came out in 1968, and a little over a decade later McDonald's introduced the first Happy Meal. The toys ranged from plush toys to action figures, with the occasional pullback car and wristwatch. See which toys are actually worth money today!
12. Tiny Beanie Babies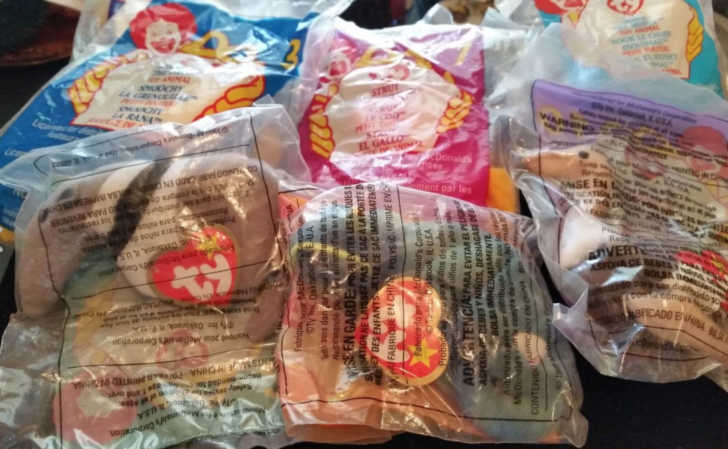 You might remember what a huge hit TY Beanie Babies were in the 90s, so much so that people began collecting them and storing them, in hopes they'd be worth a lot of money one day. The tiny beanie babies that came out in Happy Meals in 1997 were no exception. Everyone wanted to complete this collection, including adults. Apparently, some adults ordered the Happy Meals for the toys, and threw out the food. While technically now these tiny beanie babies are worth a little bit of money now, it's not enough to retire on by any means. The entire collection of 12 is going for $35 on eBay.
11. Barbie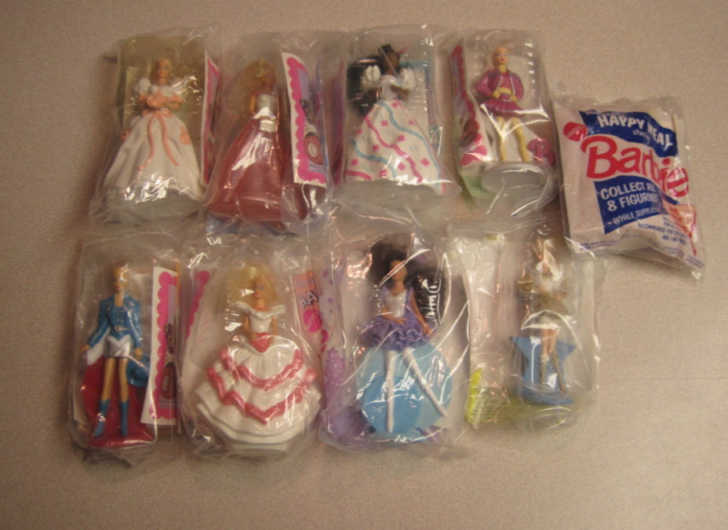 The Barbie/Hot Wheels Happy Meal toys were some of the most popular McDonald's ever had. Again, as popular as the regular versions of the toys were, these mini versions were almost even more so! There's just something about a limited availability that really made people go crazy for collecting these items. McDonald's featured Barbie toys on multiple occasions throughout the years, but the special thing about the 1993 collection was that the dolls came with actual "hair" instead of plastic. Every kid knows, this is a really, really big deal. If you're feeling nostalgic, you can find these dolls online for $10.99.
10. Fry Kids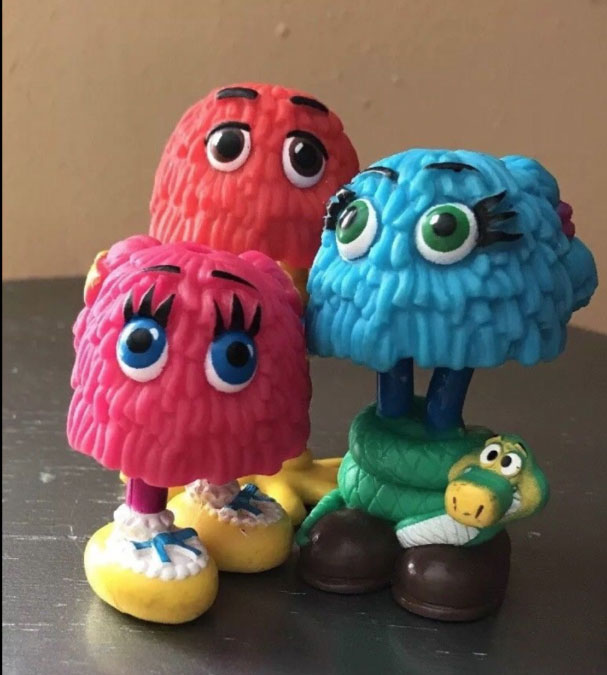 It's unclear whether these "kids" are supposed to be made out of fries, or if they just really love eating fries. Either way it's hard to argue that they are pretty cute. The Fry Kids came with fun accessories like headphones, cat ears, a baby bonnet and bottle, and one even had a cassette player, indicative of the year they were featured: 1989. You can find collections of these Fry Kids online for $11.99.
9. Muppet Babies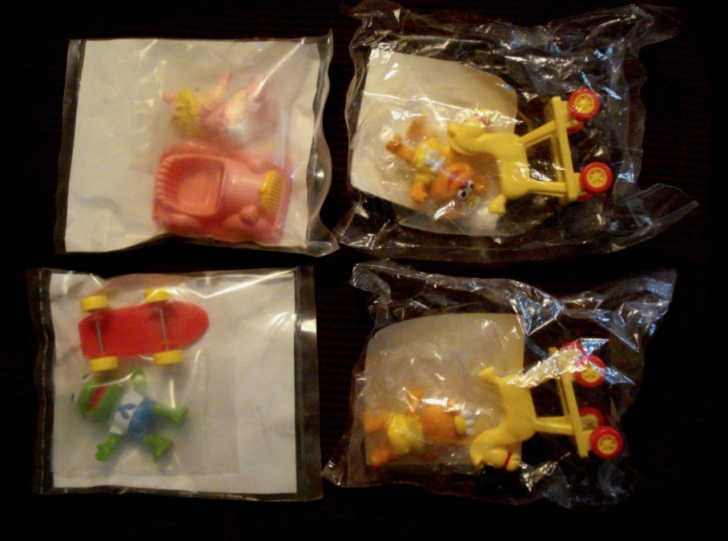 Who doesn't love the Muppets? Or, maybe you're like me and they scare you a little bit. No matter your personal feelings about the Muppets, they were an unquestionable hit in the 80s. McDonald's featured the Muppet Babies several times, but this 1986 edition had the figures on wheeled vehicles that were detachable. It was two toys in one! Clearly, other people really loved the Muppets, because you can find the figurines on eBay for $25!
8. Hot Wheels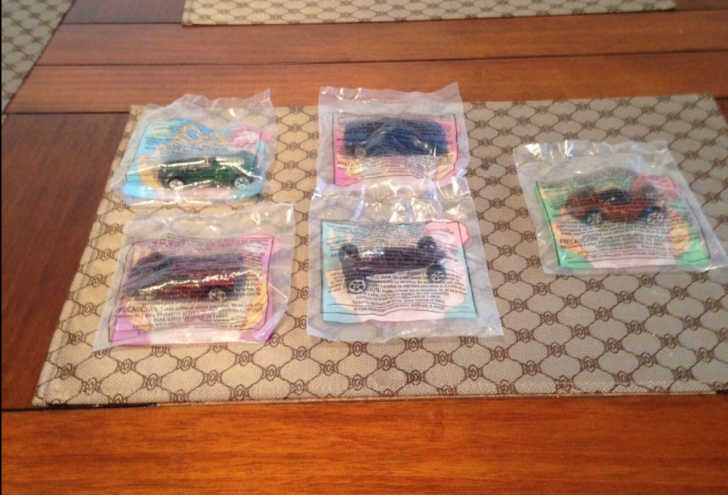 You really can't go wrong with a toy car. It's a classic and always will be. These mini versions of the ever popular Hot Wheels cars were a huge hit with kids and adults alike. If you have a few of these around the house, they might not bring in a ton of cash, but they'll go for about $8 on eBay, which more than paid for the Happy Meal you got them in!
7. Power Rangers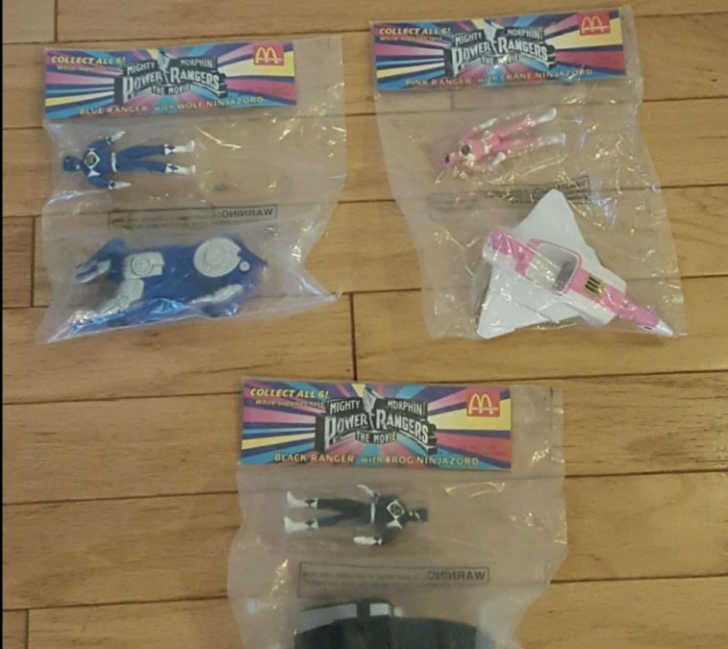 Go, go Power Rangers! These toys were from the popular TV show brought to America from Japan in 1993. Each toy came with the Power Ranger in their colored suit, as well as the character's Ninjazord – the animal or automobile that the character transformed into. Another two for one special in the McDonald's Happy Meal world, win-win! These toys are going on eBay for about $35. Not bad for a cheesy 90s show!
6. 101 Dalmatians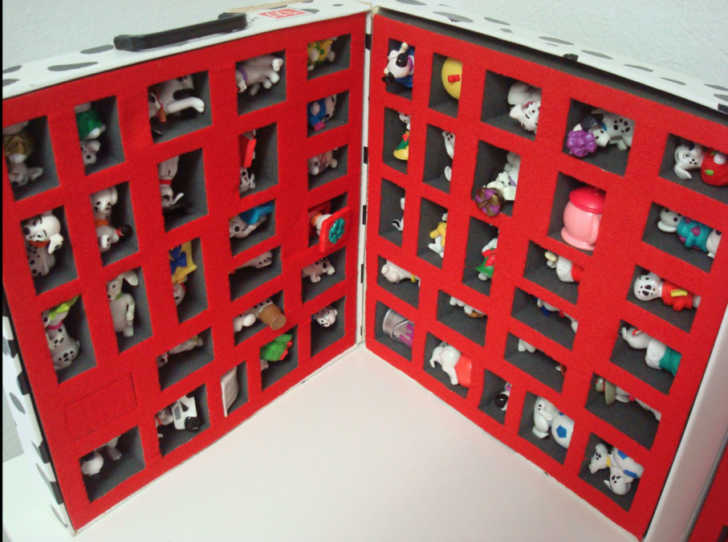 Disney's 101 Dalmatians was a goldmine for toys. With 101 dogs and a handful of other main characters to create, this was just begging to be a Happy Meal collection, right? Right. If you happen to own a complete boxed set of 101 Dalmatians Happy Meal toys, you can sell it for around $150, according to eBay.com. Yes, you read that right – a hundred and fifty dollars. Don't think anyone would pay that much? There's currently 31 people watching that bid on eBay. The market is out there, the time is now!
5. Peanuts Toys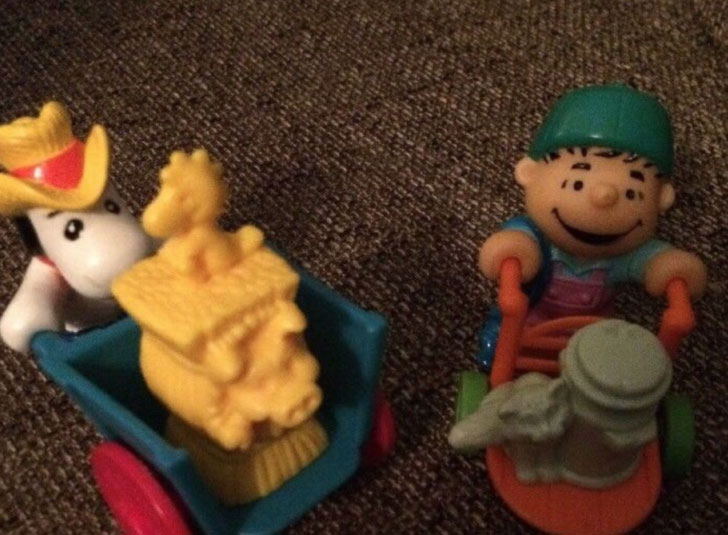 Peanuts is such a classic, it's easy to see why these toys would eventually make their way into a Happy Meal. In 1989, McDonald's featured their first set of the beloved Peanuts characters. This particular pair is going for about $10 on eBay. However, someone is currently selling their Snoopy World Tour Happy Meal toy collection for a whopping $379. So, if you're looking for some Snoopy toys, we've got you covered.
4. Minion Toys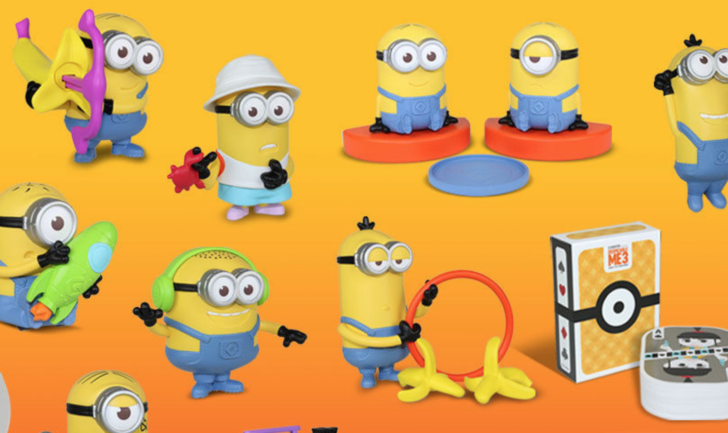 If you happen to have a complete set of minion toys – any set, really – they go for about $35 on ebay. Not too shabby! If your kids or grandkids are like every other kid who orders a Happy Meal and got excited about the toy for all of 5 minutes and then threw it somewhere in the backseat of the car, you might want to go digging around for it. Somebody is trying to sell a set of Minion toys for $398, so… clearly there is a market out there.
3. Furbies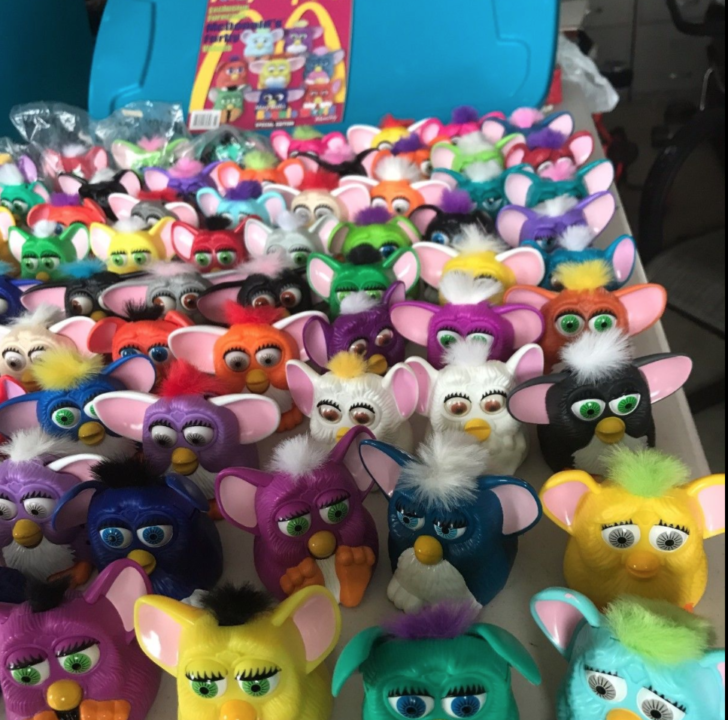 Just in case the full-sized Furbies weren't annoying and demonic enough for you and your family, McDonald's made this extra creepy, all plastic and bulging eyes edition of Furby to haunt your dreams for all eternity. If you happen to still own a few of these and would understandably like to get rid of them, they actually are worth a lot of money. McDonald's came out with 80 Furbies, for some unholy reason, and the entire set is selling on ebay for $300.
2. Teenie Beanie Boos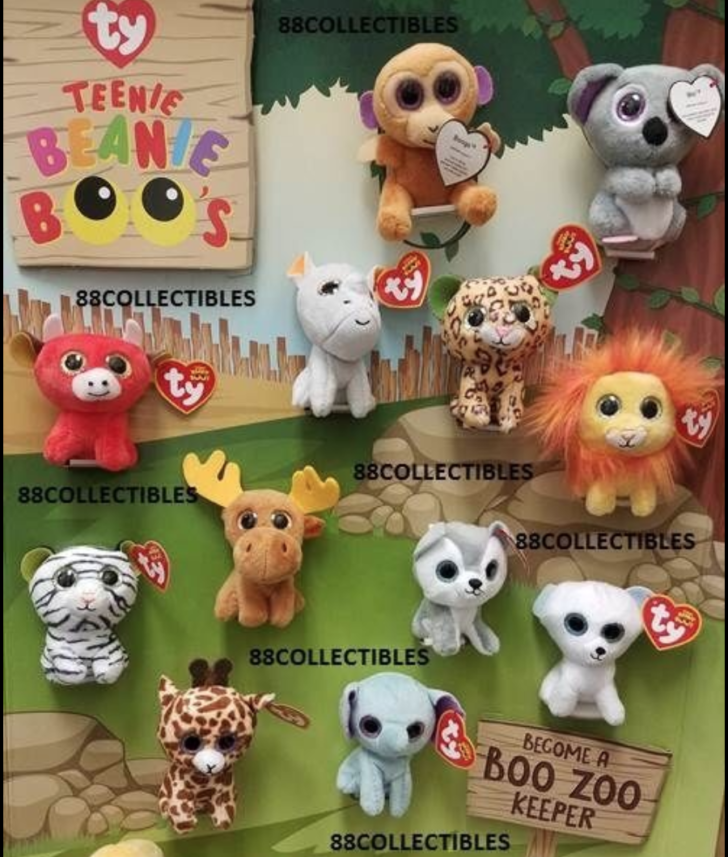 These Teenie Beanie Boos are the Beanie Babies of the next generation. You can see the difference in the gigantic eyes that are characteristic of the Beanie Boos. While these toys are only a year old as of this writing, some of them are already being sold online for $26 a piece! We know the price of the kids meal has gone up since the 90s, but $26 for a Happy Meal toy? Crazy!
1. Changeables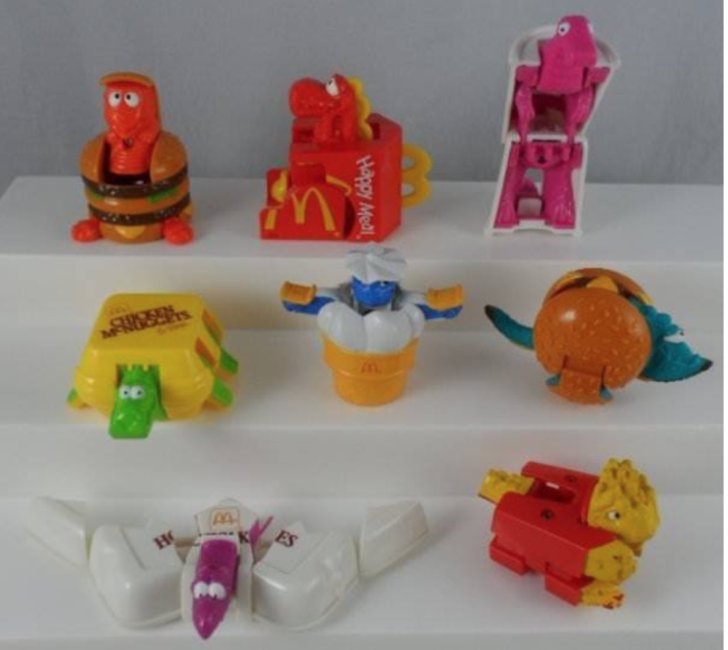 In the vein of all things Transformers, McDonald's came out with their own version of robot-car-crime-fighting action figures, that features such classics as a hamburger that transformed into a dinosaur, and a box of hotcakes that transformed into a pterodactyl. While not super appetizing to think about, these toys actually are worth about $30 when sold online!