The original recording is still one of the best!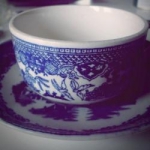 Rose Heichelbech
When we think of the song "Blue Christmas" the first performers we often think of are Elvis Presley or Johnny Mathis. But, way back in 1948 before either had a Christmas album, Doye O'dell was singing this holiday classic in true cowboy style. Doye O'dell performed in a Wild West show, had his own radio show for five years (Doye O'dell and the Radio Rangers), and performed in films and as a session musician. Written by Billy Hayes and Jay Johnson, this tune has been recorded by many a country legend and pop star. But, there's something about this slower country version by O'dell that just really makes you feel that heartache of being away from your loved ones at the holidays.
Have a listen to the earliest known version of this special song. And, you can check out another country classic right here.