Baker was an eccentric woman who had high ideals.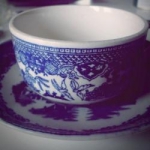 Rose Heichelbech
As one of the most famous and well-loved performers of the 1920s, Josephine Baker lived a glamorous life during the height of her fame. Baker earned the adoration of the French as well as the rest of the world and her ground-breaking performances paved the way for many performers. She settled in France, far from her native St. Louis.
During WWII, she helped the French Resistance by smuggling sensitive documents and messages between countries, earning her several medals from the French government after the war was won. But, she had another cause that she felt very strongly about. She wanted to prove that people of every color could live together and to that end adopted at least 12 children from around the globe. The odd thing is that by some accounts she chose to put them on display in the amusement-park-like setting she had created on her property, almost like a sideshow.
The resulting chaos that followed left her divorced and without a home, while the adopted children went on to question their place in the world. Watch the video to learn more about the fascinating story of The Rainbow Tribe.