Her kitchen is actually nicer than many "regular" homes!
Shareably
This story originally appeared at Shareably by Cheryl Knight.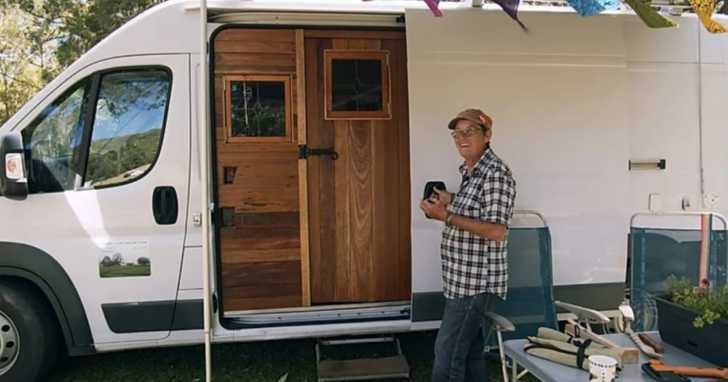 Living a free, independent life has a lot of appeal for those who don't want to be tied down to a more structured and expensive lifestyle. In fact, over the past few years, some people have decided to downscale and move into tiny houses or mobile houses.
One 64-year-old woman in Australia, named Claire, decided to do just that after realizing she didn't need a big house anymore. She had a home and mortgage, but as an artist, her income was limited.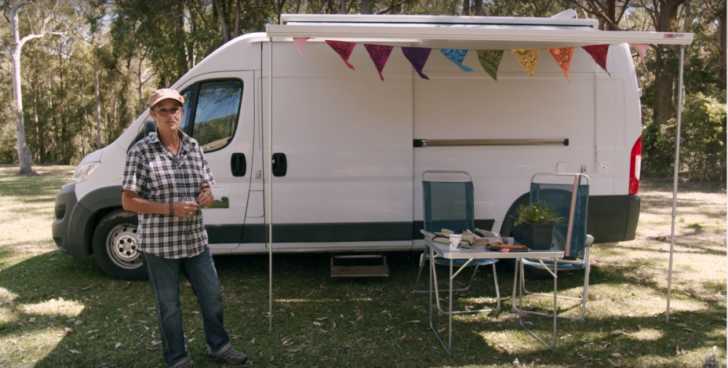 "So I thought if I had something small and beautiful that I own without a mortgage, that's going to make me feel a lot better than having four empty bedrooms and a mortgage," Claire said.
So she sold her house, bought an empty van, and turned the van into her new home!
What does it take to create the ultimate campervan
Claire spent about a year researching, reading, and looking at tiny houses and van builds to design her own. She picked little things out of each tiny home she saw until she came up with her design.
She sketched the design herself. "I designed it down to the millimeter," she told Jordan Osmond of the YouTube show, Home on the Road.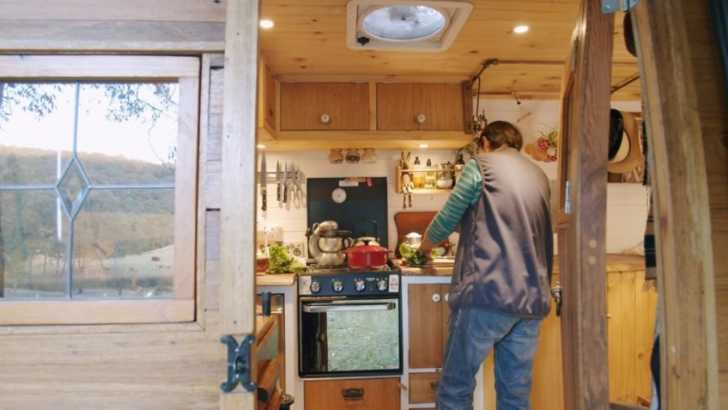 She searched around until she found someone who could build her new campervan home. The company that did the install is called Roaming Wild Campers (Campervan Conversions), and they are located in Mudgee, Australia.
About Claire's new home
The van, which is about 19.5 feet long, is a 2016 Fiat Ducato Maxi turbo diesel. The vehicle cost $26,000, while turning it into a home on wheels cost another $45,000.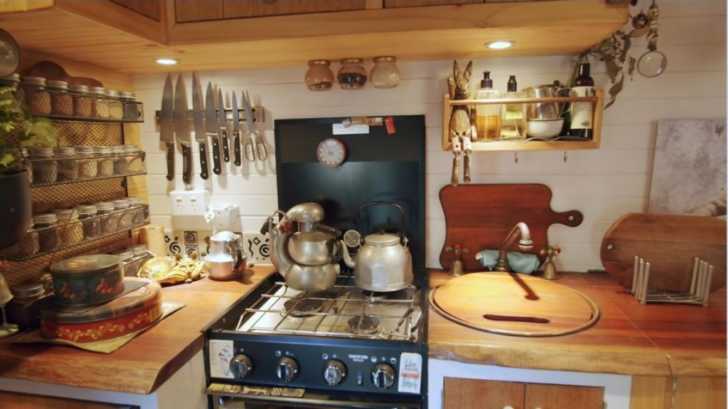 Claire calls her new home her "mouse house". The van houses a desk, kitchen, pantry, bedroom, bathroom, refrigerator, and plenty of storage for Claire. There is double insulation on the ceiling, floor, and walls.
"My kitchen is full of spices because I love to cook," she said.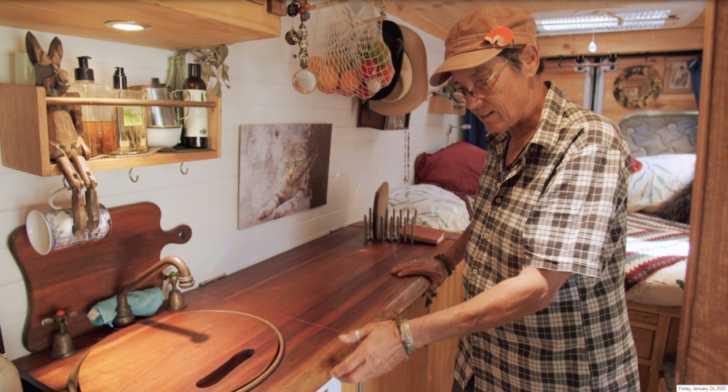 The van also has a hot water system, which just requires the flip of a switch to turn on. The kitchen has a three-burner stove, oven, and cupboards, where she stores her food, dishes, pans, silverware, and tools. And, her water comes from a 70-liter fresh-water tank that's under the van. There's also a 70-liter gray water tank.
Claire lives fully off-grid in her van using solar power and a 200 amp-powered lithium battery.
It was a life-changing decision.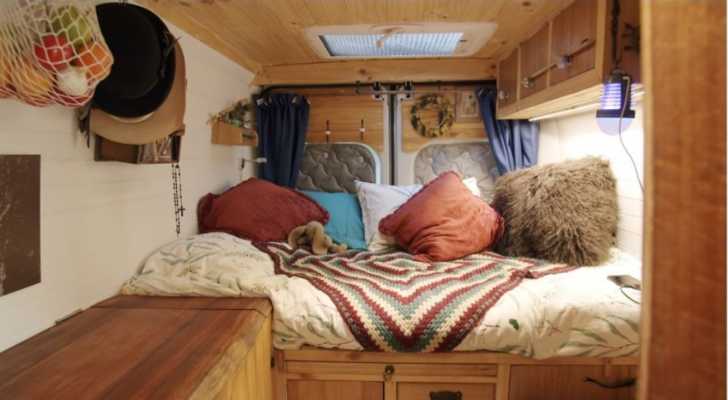 To figure out what she needed inside the van, Claire wrote down everything she did throughout a normal day.
"So I just thought about what it was that I did and what I really liked doing and what I would miss if I didn't have," she explained.
One of the things she needed was office space, so there is a small desk, computer, and drawers where she can work.
Other cool features inside the van are a kitchen counter that folds up to reveal her bathroom. There is a toilet, and she can even hang up a temporary shower curtain to shower. The pump for the bathroom water is located under the bed.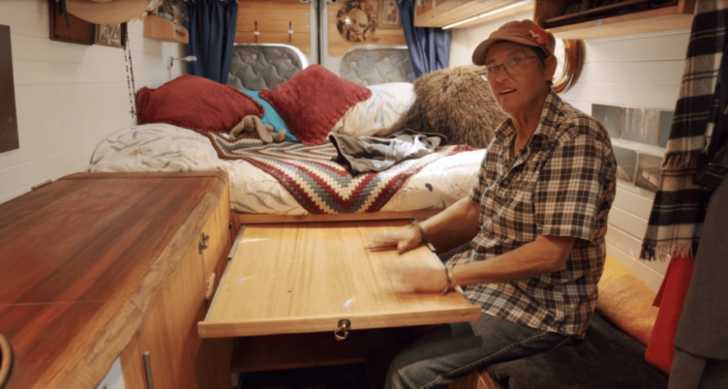 There is a sitting area next to the bed, and a table pulls out from under the bed, which is where she eats her meals.
The fridge is located under the sitting area, which is right next to the "bedroom." The bed is a single bed, and there's a skylight over the bed that completely opens up.
There is LP gas storage located at the back of the van under the bed.
How does Claire not run out of resources?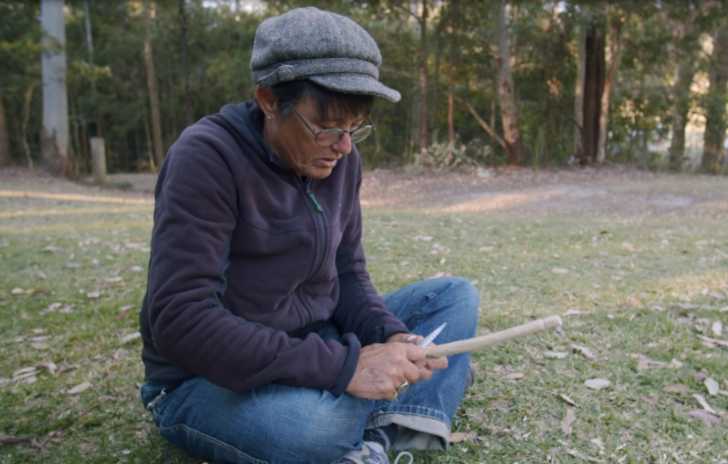 How does Claire make sure she always has the resources she needs to live in the campervan? "Living intentionally is a big part of it. You know how much water you have on board, so you're water conscious. You know how much sunlight's been on the solar panels, so you know how much energy you've got," Claire stated.
So are there any downsides to living in a van? Only one, according to Claire. "The only downside is when it rains a lot."
Please SHARE this with your friends and family.