This cat can really move.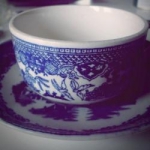 Rose Heichelbech
The Slauson Shuffle was one of those dances that kind of gets let in the dust when people talk about dance crazes. Everyone knows about the Charleston, the Twist and the Swim, but how many people know what the Slauson Shuffle was? If you remember this dance then you've just got to see the video below.
People tend to remember Chubby Checker for his most famous song "The Twist." But, there was another rotund fellow who was topping the charts at the time: Round Robin. From Watts, California, Round Robin's biggest hit was "Kick That Little Foot, Sally" which was released in 1964. The Slauson Shuffle was a line dance, much like the Madison, which was popular primarily in California from 1962-64, but with this song we bet quite a few kids across the country were trying it at home. Check out Round Robin's fancy footwork demonstration of this fun dance in the American Bandstand video below.