Find out the truth about this all-American dressing!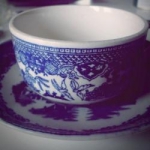 Rose Heichelbech
While you may still be reeling from the news that Betty Crocker isn't a real person, you also might be wondering if any of the names of your favorite foods have anything to do with the real thing. In this case it's real- Hidden Valley Ranch was a real place and the ranch dressing Americans love so much is named exactly for that ranch.
Hidden Valley Ranch was home to some hungry ranch hands (and later on, guests) who raved over owner Steve Henson's homemade secret-recipe buttermilk dressing. Guests started asking to buy it and the Hensons ran a mail order business for the seasoning packets for years before the recipe was bought for a whopping 8 million dollars in 1973! But, it took years to perfect a shelf-stable version- remember Henson's was always served fresh. Find out more about the favored dressing (and the original recipe!) in the video below. And, be sure to check out the history of chocolate chip cookies right here.