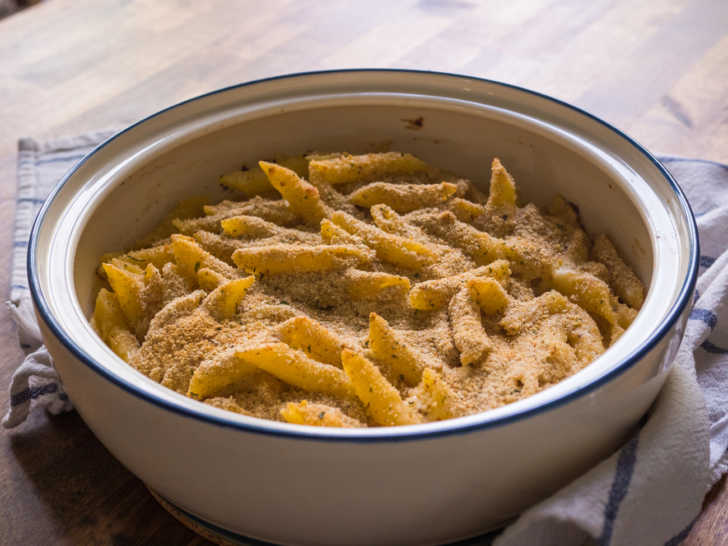 You're not going to be hard-pressed to find an American who loves macaroni and cheese. It's a common adoration, and it's not a recent one either. Mac and cheese has been beloved by Americans as far back as the revolutionary era – the earliest known written recipe for macaroni and cheese dates back all the way to 1769. So how was it made back then? We decided to find out. While this particular recipe isn't quite as old, it does have some years on it. It comes from the Godey's Lady's Book of Civil War Recipes, dating back to 1863.
[media allowfullscreen="true" provider="properio" type="iframe" src="//proper.io/embed/xn4uck" width="640″ height="360″ ad="true"]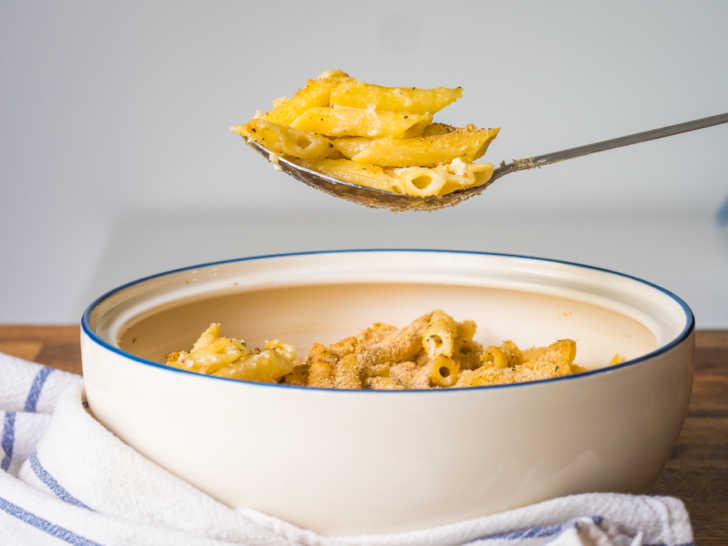 The original recipe for "Maccaroni Cheese" in Godey's Lady's Book was only one sentence. It read:
Boil the maccaroni in milk; put in the stewpan butter, cheese, and seasoning; when melted, pour into the maccaroni, putting breadcrums over, which brown before the fire all together.
As you can see, it's not a ton to go on. There aren't any suggestions on quantities or cooking time, but with a little help from modern-day recipes, we expanded the instructions and ingredients a bit for you below. In this method, the noodles are cooked in the milk, which releases starch and erases the need for any kind of roux to thicken the sauce. It's a little different than the macaroni you might be accustomed to, but it's still mighty delicious.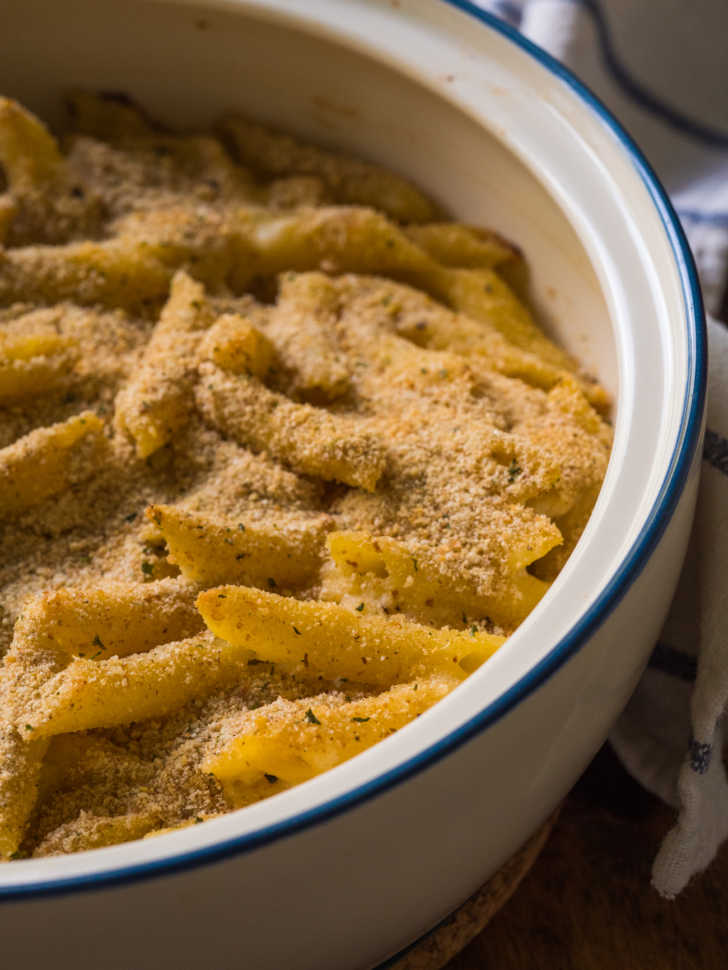 In the 1860s, 'pipe maccaroni' would have been used, which is described as being "as thick as a goose-quill." It was similar in shape to bucatini but shorter in length. Today, any small tube-shaped type of pasta makes a good substitute. Think ziti, rigatoni, or penne. Though today we tend to use cheddar or even a mixture of different cheeses, in the Civil War era they usually would have used an aged cheese like Parmesan. As far as seasoning goes, mace would have been readily available and used in this type of dish.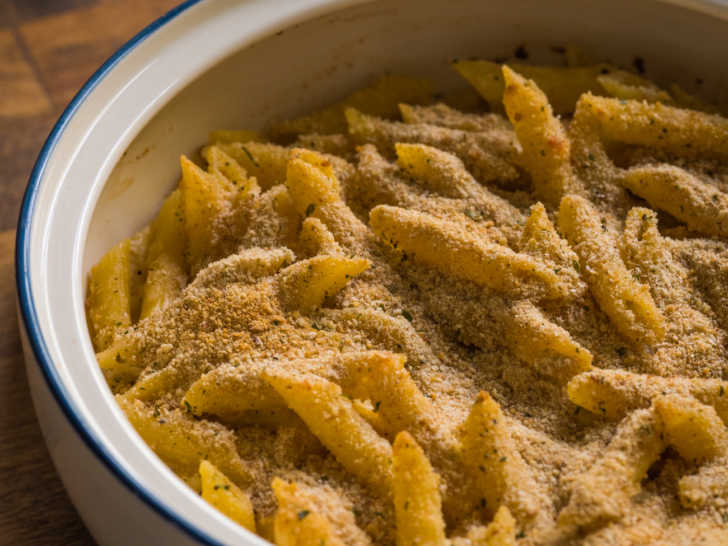 You can thank one of our founding fathers for popularizing 'maccaroni' in America. Reportedly, Thomas Jefferson loved it so much that he brought over a pasta making machine from Europe and served mac and cheese at State dinners during his presidency. While he didn't invent it and he probably wasn't the first to introduce it to America, he did have a hand in making it more well known. Though one of his guests didn't seem to appreciate it all that much:
Dined at the President's – … Dinner not as elegant as when we dined before. [Among other dishes] a pie called macaroni, which appeared to be a rich crust filled with the strillions of onions, or shallots, which I took it to be, tasted very strong, and not agreeable. Mr. Lewis told me there were none in it; it was an Italian dish, and what appeared like onions was made of flour and butter, with a particularly strong liquor mixed with them. – William Parker Cutler
What is clear is that Thomas Jefferson did appreciate it. On November 29, 1809 he ordered two boxes of macaroni totaling 50 pounds, and just a month later he went ahead and ordered another 20 pounds. You could say he was obsessed with macaroni and cheese. Just like the rest of us.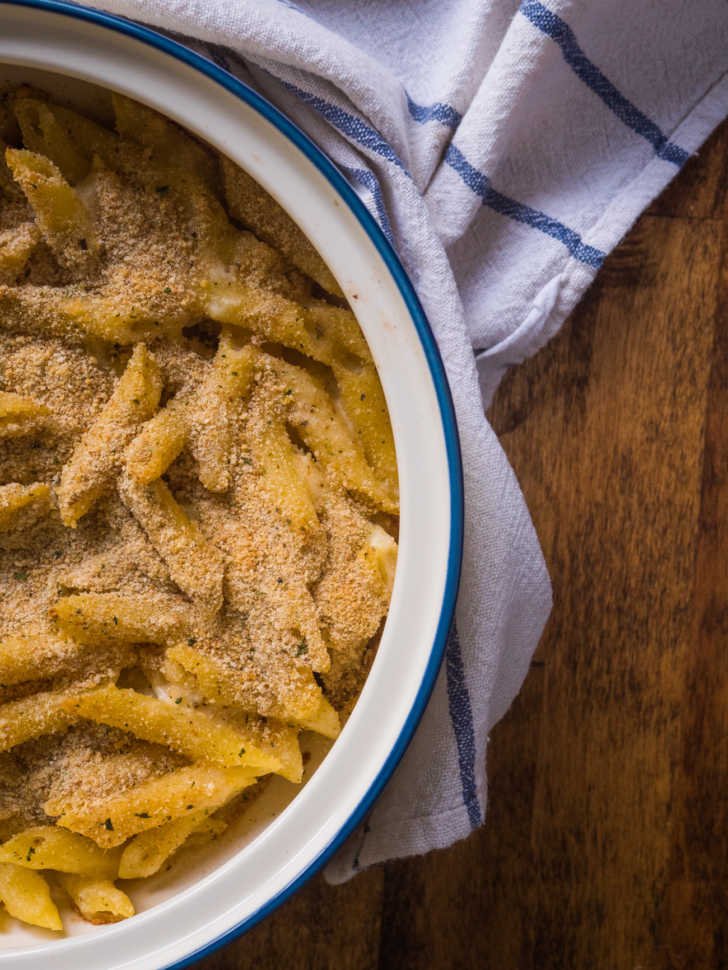 Macaroni and Cheese
Ingredients
2 1/2 cups ziti or pasta
4 cups whole milk
3 tablespoons butter
1 cup Parmesan cheese, freshly grated
1/4 teaspoon black pepper
1/8 teaspoon ground nutmeg
1/4 cup bread crumbs
Preparation
Preheat oven to 400°F.
Heat the milk in a large saucepan over medium heat, then stir in the dried pasta. Let come to a boil, then reduce heat to a simmer.
Cook until pasta is al dente, 10-12 minutes. Most of the milk should be absorbed.
Add the butter to the pan, and stir until melted. Add grated cheese, pepper, and nutmeg and continue stirring.
When the cheese has melted, pour mixture into a small baking dish and top with breadcrumbs. Bake in preheated oven until lightly brown, about 20 minutes.