It's a bittersweet love song.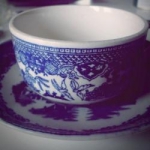 Rose Heichelbech
The Beau Brummels have been credited with creating the "San Francisco sound" of the 1960s. Their folksy songwriting style, combined with electric guitar, was a hit and their first commercial success was 1964's "Laugh, Laugh"- written as an I told you so to a former lover. The tune was first released as a single, but then was part of the band's first album only 5 months later, Introducing the Beau Brummels. The song was produced by music prodigy, Sly Stone, who later went on to form his own legendary band, Sly and the Family Stone. Both acts, as well as other California bands like Jefferson Airplane and The Grateful Dead, helped shape the sound of rock and roll in the '60s.
Th Beau Brummels were named for the English 19th century dandy, Beau Brummell. Not only did the name bring up images of the British Invasion, their name also ensured they'd be placed near The Beatles' records in record shops. The Beau Brummels later "appeared" on the wildly popular cartoon, The Flintstones, as well as making The 500 Songs That Shaped Rock and Roll exhibit at the Rock and Roll Hall of Fame.
Hear them perform this hit on Shindig in 1965 in the video below.