Chicken drumsticks are perhaps the most delicious part of the chicken. They are dark meat, meaning they're packed with plenty of flavor, and baking them with the bone adds even more. Also, you can save the bones for making our favorite chicken stock.
To make great drumsticks, we used a delicious combination of breadcrumbs and Parmesan cheese with a few extra spices to really make sure there was great flavor in every layer. Baking was just a matter of setting the drumsticks on a prepared baking sheet and cooking for 20 or so minutes at 425F. Keep reading below for this flavorful recipe…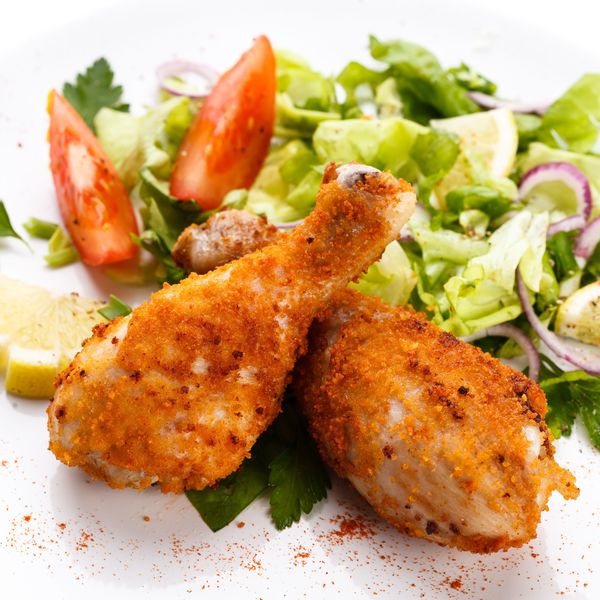 Breaded and Baked chicken Drumsticks
Ingredients
1/2 cup flour
1 tablespoon paprika
2 teaspoons black pepper
1 teaspoon salt
2 eggs
2 teaspoons Worcestershire sauce
1/2 teaspoon lemon juice
3/4 cup dry breadcrumbs
1/4 cup fresh shredded Parmesan cheese
1 tablespoon herb season blend (your choice. We like using a simple Italian Herb blend)
6 chicken drumsticks
Olive oil
Preparation
Preheat the oven to 425F. Coat the bottom of a roasting pan or baking sheet with a thin layer of olive oil.
Mix together the paprika, flour, black pepper and salt in one bowl. In another, beat together the eggs, Worcestershire sauce and lemon juice. In a third bowl, combine the breadcrumbs, Parmesan cheese and herb season blend.
Pat the chicken dry with a paper towel, then dredge in the flour mixture, turning to coat. Next, dip the drumsticks in the eggs, making sure they get coated before finally dredging in the bread crumbs, making sure they are nice and coated. Place the chicken immediately on the prepared baking sheets.
Bake for 20-25 minutes, or until cooked through and the juices run clear (not pink) when poked with a sharp knife.
Enjoy!
Recipe adapted from Nifty Mom