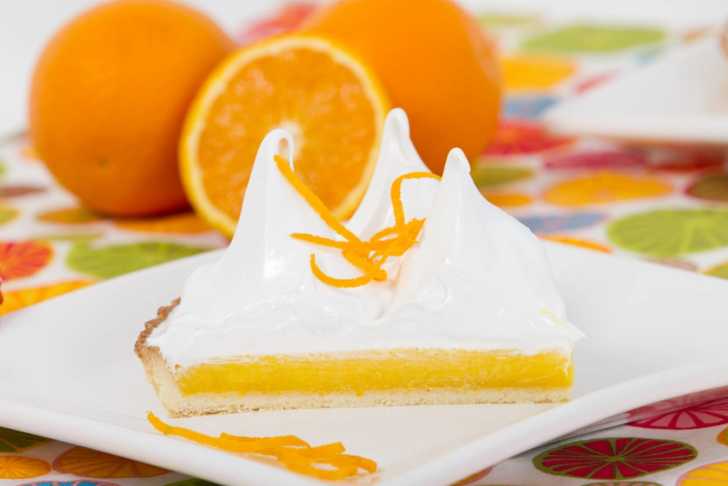 An orange meringue pie is a retro classic and one that I really enjoy making from time to time. I think of all those brunches at our favorite breakfast spot and fondly remember looking into the glass pie case at all of the amazing pies, homemade right in that kitchen. Let's face it, I still do that now at our favorite breakfast spot! There's just something extra special about a meringue topping on a pie that makes it so much fancier and special.
What I love about this pie is that it takes just a few simple ingredients and a little bit of effort to make a really elegant pie. I'm a fan of a pie in just about all forms, and I'm a sucker for everything from pecan pie to lemon meringue. If you're not a huge fan of lemon meringue, this orange meringue pie is an excellent alternative for those that don't like that tart citrus taste from a lemon and instead prefer the sweet taste of oranges.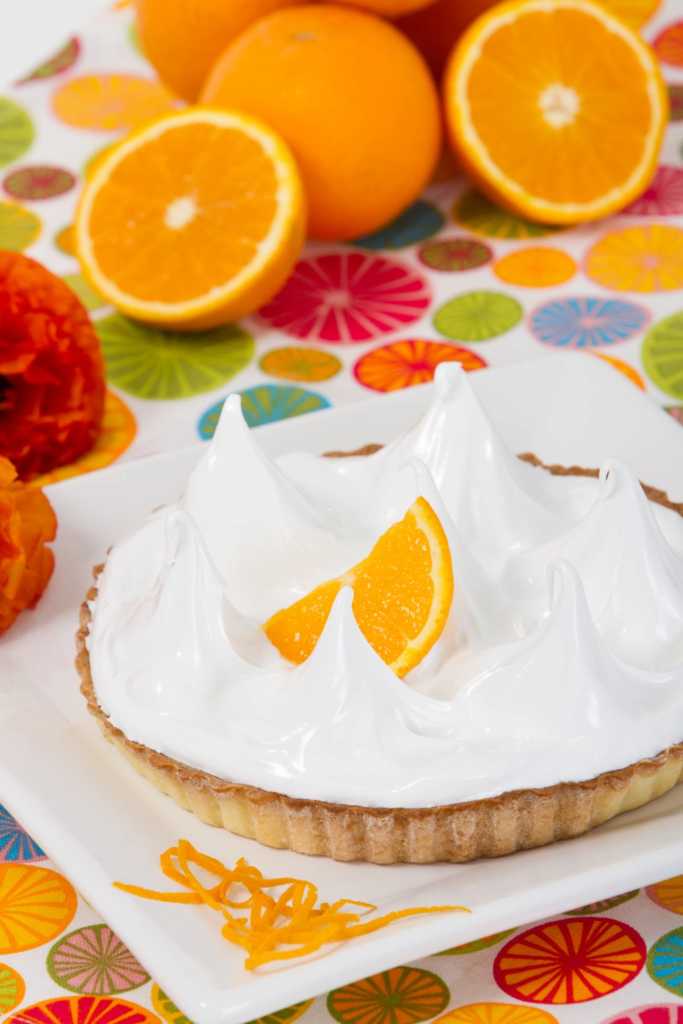 Every pie needs a solid foundation, and this No-Fuss Pie Crust is a super simple way to start this pie's construction. I'm certainly not above grabbing a store-bought crust either, but for the sake of this vintage recipe, a homemade crust feels appropriate. As dazzling as the glossy peaks of meringue are on this pie, it's the filling that is the real star of the show. I prefer to use pulp-free orange juice for the sake of a smoother consistency to my filling. So, orange juice, a little orange zest, sugar, cornstarch, and salt are all cooked together to form a luxurious custard-jello like filling.
The meringue topper is all that's left to do, and this is a great way to add some flare to the finished pie, so choose whatever pattern you'd like for your meringue. These peaks are dramatic and whimsical at the same time and that's what makes this part of the pie-making process so fun. I also like to take a more subtle approach and stick to more conventional methods that would include baking the meringue so that it becomes a just slightly golden brown. Any way you slice it, this classic orange meringue is one amazingly sweet retro treat.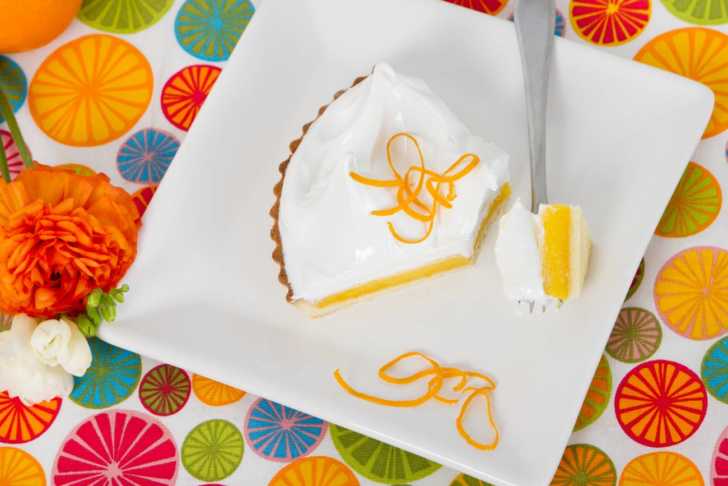 Vintage Orange Meringue Pie
Ingredients
1 9-inch pie crust
For the Orange Filling:
1 cup orange juice
2 tablespoons orange zest, grated
¾ cup sugar
½ teaspoon salt
3 tablespoons cornstarch, divided
3 egg yolks, beaten
2 tablespoons unsalted butter
For the Meringue:
5 egg whites
1 tablespoon corn starch
1/4 cup granulated sugar
Preparation
Preheat oven to 350°F. Place pie crust into prepared 9-inch round baking dish. Decorate edges as desired. Use a fork to score the bottom of the crust. Line crust with tin foil and fill with dried beans or rice. Bake for 15-20 minutes or until edges of the crust are just golden brown.
In a saucepan over medium-high heat, mix orange juice, orange zest, salt, sugar, and cornstarch. Cook, stirring frequently, until mixture begins to thicken.
As the orange mixture thickens, beat 3 egg yolks in a small bowl. Temper the egg yolks by slowly adding ¼ - ½ cup of the warm orange mixture to the egg yolks, whisking constantly. Whisk the tempered egg yolks into the orange filling and continue to cook for an additional 5 minutes.
Remove from heat and add 2 tablespoons unsalted butter, stirring until melted. Pour orange filling into prepared pie crust and set aside to begin cooling.
Prepare the meringue by mixing cornstarch and sugar. With an electric mixer or using a mixing stand, beat 4 egg whites until they become foamy. Slowly pour in the cornstarch-sugar mixture and continue to beat at High speed until stiff peaks form.
Scoop meringue onto the pie and decorate as desired, shaping into ripples or into towering peaks. Serve as-is or bake the pie briefly until top of the meringue becomes a light golden brown. Optional: garnish with ribbons or orange rind. Enjoy!
Recipe adapted from Florida Memory.