The Highchairs in Our Lives…and the Potty Chairs, Too!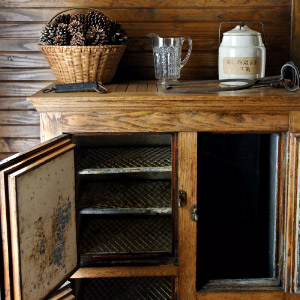 Dusty Old Thing
High chairs form an indelible image in our minds. We may remember our own, a memory perhaps formed by the old photos of our first or second birthday parties. If we grew up as part of the post-WWII baby boom, that high chair was probably made of maple and had a color print on the back of a duck or rabbit or lamb. Later, the highchair may have been of easy-to-clean metal with vinyl or today's plastic.
High chairs, of course, go "way back". The Metropolitan Museum of Art In New York City has one from Britain, circa 1650. It shows the same kinds of designs that would be found in a chair for adults in a prosperous home at the time. Undoubtedly, new settlers in America brought the same traditions with them. High chairs were formed to look like the kinds of chairs they had made locally, or made themselves, for themselves. The styles varied according to the dominant style at the time and the family's financial means, or skills if they were homemade. Frontier cabins may have had very primitive high chairs fashioned much like the ladderbacks or spindle-backed chairs used by the rest of the family. The ever-practical Shakers had all sizes of chairs.
In the Victorian period, and with the fashion for new gadgets that could be mass produced, high chairs were often made to serve more than one function. They could be lowered to be a stroller or even a potty chair or play table. They were also more ornate, some with detailing that would allow them to fit into the family's formal dining room. They may have had trays. Children were often tied into them with kitchen cloths since they didn't have today's safety equipment.
Potty chairs have a similar long history, back to the 16th century at least. They were modeled on "necessary stools" for adults and were often called "close stools" or "the convenience". As everyone knows, there's a hole in the center and a chamberpot would slide in underneath. In the early days the chamberpot was made of earthenware. Later there was porcelain and then enamelware…up to today's plastic. Some potty chairs, especially in the Victorian era and into the 20th century, had trays that would hopefully keep the little one somewhat entertained.
Thanks go to Elaine and Joyce for sharing their photos with us all at Dusty.
You can see how Elaine is using her new find in the last photo below.
This is one of our own family high chairs, for toddlers, here at Dusty. The footrest is very worn from countless little feet! It has a western Kentucky origin but the date is uncertain. Lots of food and much milk has been spilled on it. It was always pulled up to the table and the toddler carefully watched. It is still in use.
This convertible high chair can be a stroller and a play seat as well as a high chair.
This is our fancy walnut Victorian high chair at Dusty. It originally had a tray but that was lost before it was purchased by a family member at a Columbus, Ohio, antique shop around 1960. It has been in constant use ever since!