The Cupboards and the Things They Hold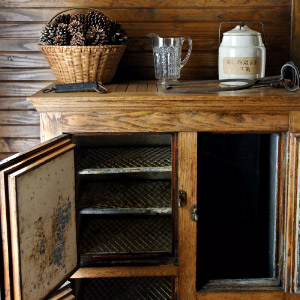 Dusty Old Thing
Tonight we'd like to show three cupboards holding marvelous displays. They have all recently been shared with us by our readers. Two are corner cupboards and one is a classic Hoosier. We're also showing a great Art Deco "hoosier-type" cabinet that we would love to see filled with "retro" and Deco pieces.
Thanks go to Melissa, Cathy and Karen for sharing their love of antiques with us all.
This fantastic collection gets much of its beauty from the harmony of color. The woods in the corner cupboard and the ladder back chair offer a perfect backdrop to the yellow ware and the wicker basket. There's a quiet charm to the whole composition.
Yellow ware gets its name from the type of clay used to make the pieces, clay that was plentiful especially in the Ohio Valley. It's often seen in thick bowls and in molds. Some pieces can date back to the early 19th century, but it also was made through the 1950's. It is also being reproduced today so collectors have to be careful. Some of the best known potters made yellow ware: Hull, McCoy, Weller, etc. Not all pieces are marked. Bowls were often sold in sets and numbers on the bottom might indicate the size of the bowl within that set. Many pieces of yellow ware have bands in brown, blue and/or white and, unless a reproduction, may date from 1840 to 1900. Some pieces also have embossed decoration at the rim, often a lattice or vine pattern.
A perfect display! We love the vintage quilt, too!
Melissa's china looks to be Blue Willow and looks perfect in this corner cupboard. Blue Willow is one of those classic patterns that has been popular for about 225 years. Thomas Minton is often credited for its original design about 1790, basing it upon Chinese imported china into England. Other English potters such as Josiah Spode or Thomas Turner may actually have created the design earlier. Controversy does exist. After the design became so popular, a large number of potters both in England and the United States developed their own lines. We can see from Melissa's display why it was, and is, so popular.
Readers, can anyone identify a possible maker for this Art Deco type piece?