Breakfast is our favorite meal of the day, so it's no wonder we like to try out different delicious recipes to start things out on a good, nay, great note. This recipe is seriously amazing. It's on the indulgent side, so it's not for the days when you're trying to be good, but it's the perfect treat to enjoy every once in a while and makes for super simple entertaining.
All right, so the crux of this dish is yummy maple cinnamon French toast, but the pièce de resistance is the gooey cream cheese pockets scattered throughout the casserole. This perfectly cuts the sweetness of the French toast and rounds out the flavor in the best way possible. Prep this dish the night before (you can let the cubed bread soak overnight, if you like) and your work in the morning is a breeze! Regardless of when you make it, do try it out because it will knock your socks off!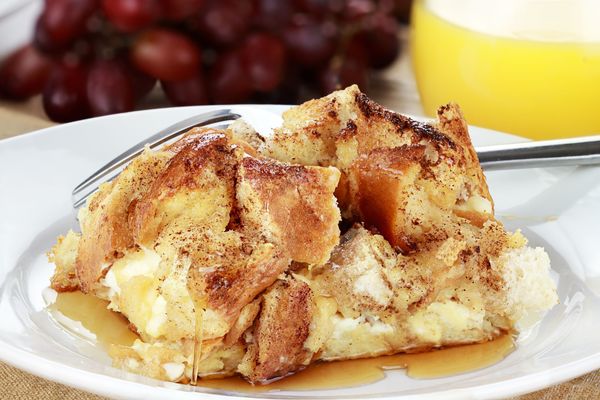 Cream Cheese French Toast Casserole
Ingredients
10 cups (1 large loaf) day-old Brioche, cut into cubes
8 eggs, lightly beaten
1 1/4 cups milk
3/4 cup heavy cream
1/2 cup maple syrup
1/2 cup (1 stick) unsalted butter, melted
1/4 cup brown sugar
1 (8 oz.) package cream cheese, room temperature, cut into cubes
1 tablespoon cinnamon
1 teaspoon pure vanilla extract
maple syrup, to taste
1/4 teaspoon salt
Preparation
Preheat oven to 350º F and lightly grease a 9x13-inch baking dish.
In a large bowl, whisk together eggs, milk, cream, maple syrup, dark sugar, cinnamon, vanilla extract and salt.
Beat in melted butter and whisk for another 2 minutes.
Drop bread cubes into the egg mixture, pressing them down so they're completely coated and absorb all liquid.
Spread 1/2 bread chunks in an even layer across the baking dish and sprinkle cubed cream cheese evenly across the bread.
Top with remaining bread and cubed cream cheese.
Cover with aluminum foil and transfer baking dish to oven. Bake for 35-45 minutes, or until cooked through and golden.
Remove from oven, garnish with more maple syrup and serve immediately.
Recipe adapted from The Food Charlatan