I can't stop smiling over this!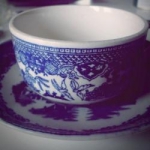 Rose Heichelbech
Singing in the Rain is one of the best films to be made in the 1950s. The dancing and comedy are simply unmatched and they certainly don't make films like this one anymore. But, there is one scene that truly does make me laugh out loud every time I see it. Donald O'Connor pulls every trick in the book to get a laugh in the "Make 'Em Laugh" routine. His obvious talent at physical comedy came from his years of dancing and performing Vaudeville, so it's no surprise that he pulls this scene off with such skill. You probably remember him from the Frances the Talking Mule movies, but O'Connor appeared in films for a whopping six decades!
That certain part near the end always gets a giggle from me! Have a look again at this wonderful scene below. And, you can check out a young Donald O'Connor dancing right here.