It was an instant hit.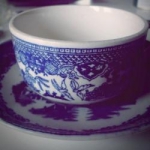 Rose Heichelbech
Right around the same time that The Beach Boys were releasing hit after hit in the new California surf music vocal style, so were Jan and Dean singing their hearts out in the now-familiar harmonies of "The Little Old Lady (from Pasadena)". The song was written by Jan Berry (one half of the group) and songwriters, Don Altfeld and Roger Christian. It became an instant classic, one that's been played on the radio ever since.
This song regales the listener with the tale of a little old lady who drives a "shiny red Super Stock Dodge" and is "the terror of Colorado Boulevard". The subject, a fast-driving granny with a sports car, was based on the myth of the widowed woman whose husband was sure to leave her some kind of very fast car. Long before the song came out the fictional little old lady was invoked by used car salesmen as a pitch that suggested a car had little wear, having only been driven once a week by an elderly woman. The song paints this mythical widow very differently- as someone who instead really enjoys driving, beats other drivers in drag races, and who, according to Jan and Dean, is "gonna get a ticket now sooner or later".
Hear this fun classic again in the video below.