These two stars really know how to have a good time.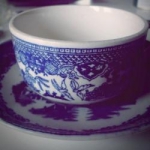 Rose Heichelbech
We love seeing our favorite performers together and today is a real duo: Rita Hayworth and Fred Astaire in You Were Never Lovelier (1942). These tear up the dance floor together in this delightful dance scene. "Shorty" George Snowdenwas a premiere swing dancer in the 1920s and 1930s and is even credited for giving Lindy Hop its name when he was asked by a reported what one of his improvised dance moves was called: he made up a name incorporating Charles Lindbergh's name. This fun dance named after the dancer is the basis for Astaire and Hayworth's routine. And don't they do it well?
Hayworth looks absolutely charming in her day dress and spectator shoes and they both really look like they're having fun in this scene. If you love this clip then check out some truly frenetic swing dancing right here.