It truly sparkles.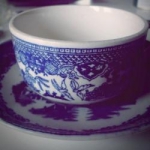 Rose Heichelbech
When it comes to royal jewels few monarchs do it better than the British. Today Queen Elizabeth II favors white diamond tiaras, but in the Renaissance era the colors used for crowns were often more varied and vibrant. The crown worn by Princess Blanche is one such crown and also happens to be the oldest English crown surviving today. It is housed in a German museum, and is a testament to the craftsmanship of this bygone era.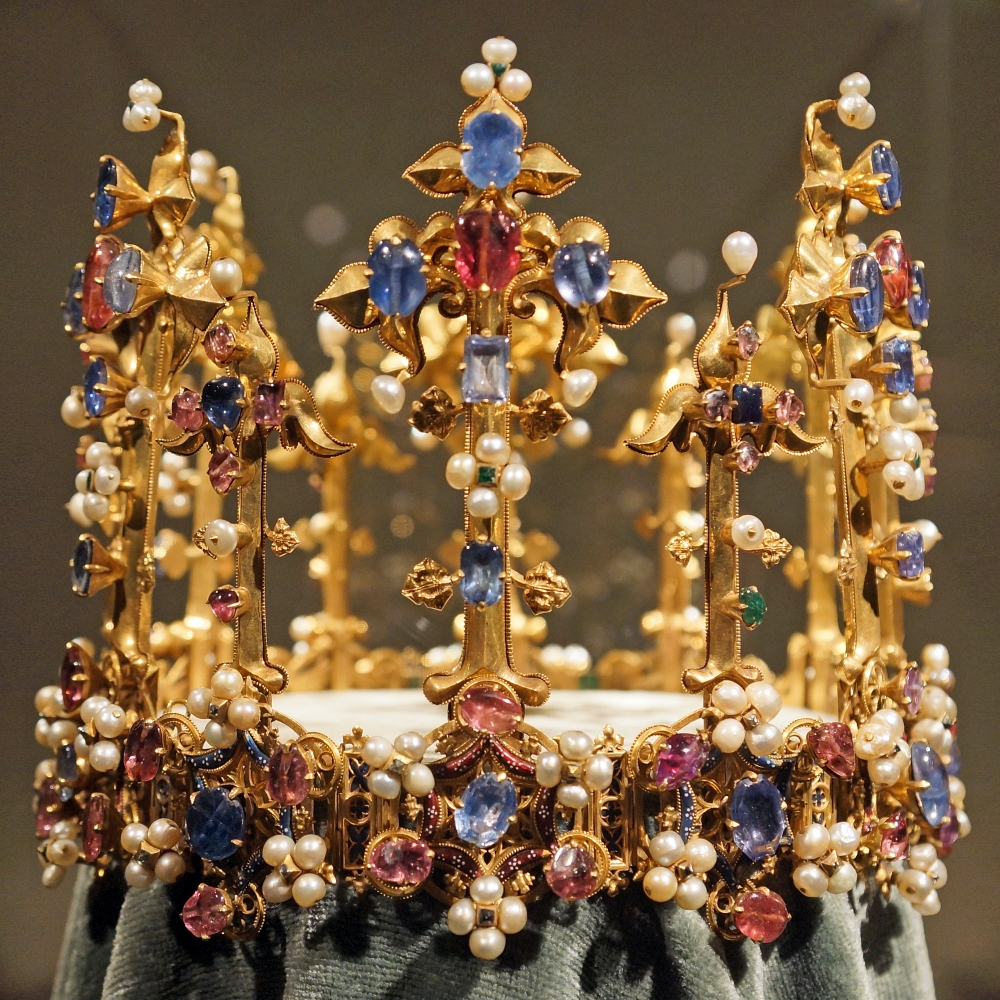 The crown is known as Princess Blanche's crown because this royal wore it in the early 15th century. Descriptions of the crown in the late 14th century note that it was not yet finished at the time it was in the possession of King Richard II of England. His wife, Anne of Bohemia, likely wore it as her nuptial crown.
Elements of the design of the crown suggest that it could have been made in Paris or Venice- or even by a maker trained in one of those cities who was working in Prague. After that it became part of the dowry for the young Princess Blanche, who was engaged at only 9-years-old to the German prince, Louis III. The pair were wedded only a year after that and she wore the crown for her nuptials. She had given birth to her first child by the time she was 14 and died while carrying her second child at the age of 17.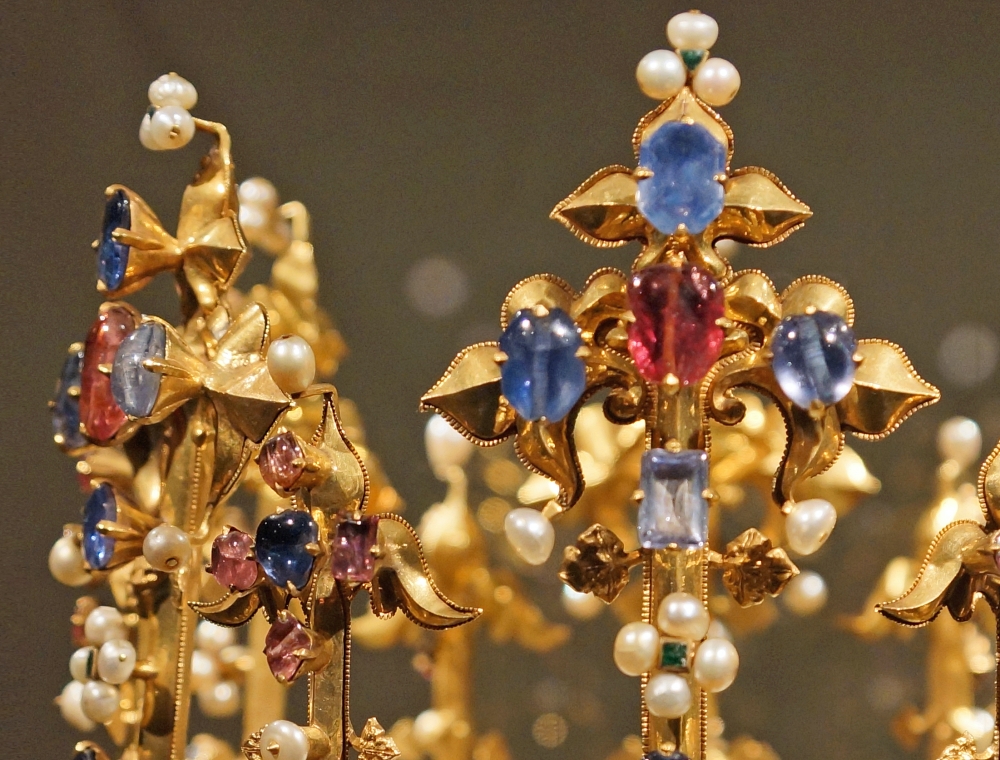 The marriage was a politcal one arranged by their parents and there was a dowry requirement of 40,000 nobles- the equivalent of just over 13,000 pounds sterling since 1 noble was 1/3 of a pound.
The crown has 12 stems, each possessing floral designs at the apex. The gold crown is set with all manner of jewels, including pearls, sapphires, emeralds, rubies, and diamonds. At the base of the crown blue enamel work perfectly offsets the gold, while tiny white flowers overlay crescents in both burgundy and blue enamel in other areas. A lower quality green enamel can also be found on the piece. Sadly, over the years some of the gems have been replaced with imitations. By the time that a monastery came in possession of it little more than a decade after Princess Blanche's death some of the jewels were already missing.
Today the crown is in the collection of the Munich Residenz in Germany, once the royal home to the monarchs of the House of Wittelsbach, through which the crown was passed down. Despite no longer being in England, it is the oldest known crown to have been worn by an English royal.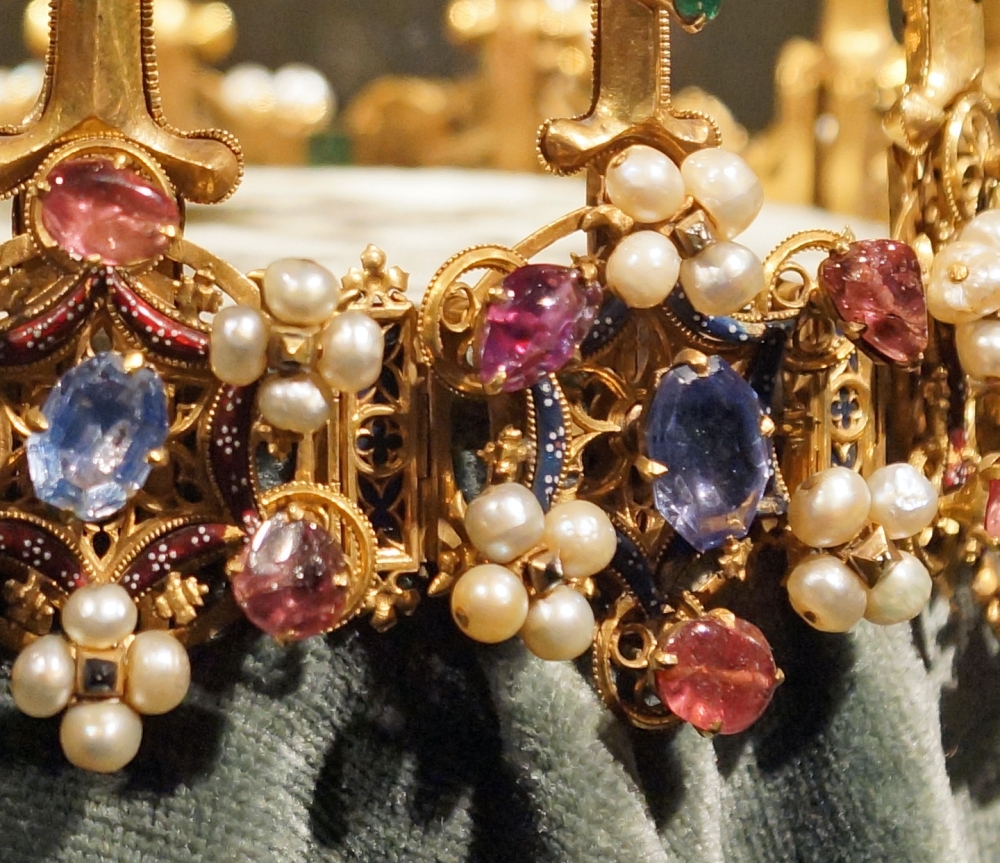 You can see the glittering crown in more detail in the video below.