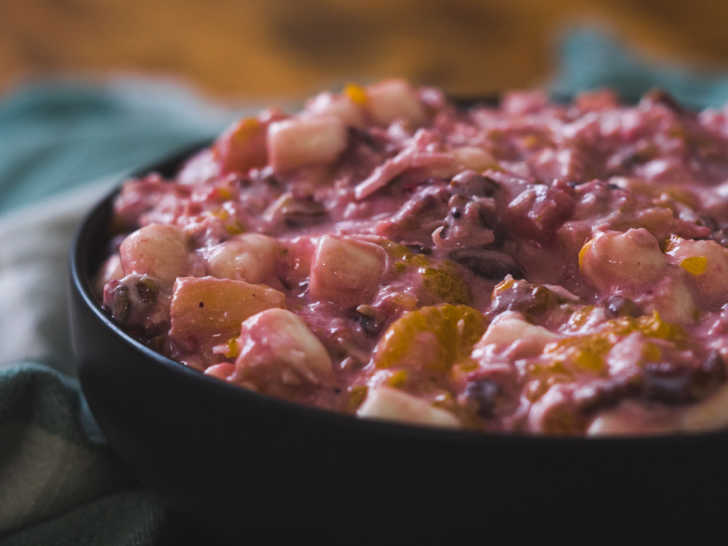 Growing up we usually had at least one kind of ambrosia salad at family gatherings- sometimes more if the wires got crossed and people brought extra bowls of it. It didn't matter if there was too much because most of it got eaten that very day! Plus, ambrosia salad tends to hold up well in the fridge for next-day snacking. This holiday version of the recipe is just the thing to complete the table for Christmas Dinner.
This Christmas version of the classic dessert salad is just the perfect twist on a dish that has been popular since the 1800s when citrus fruit and coconut first became available in the U.S. Later generations added the sour cream and marshmallows for a truly decadent "salad" that families have enjoyed for many years now.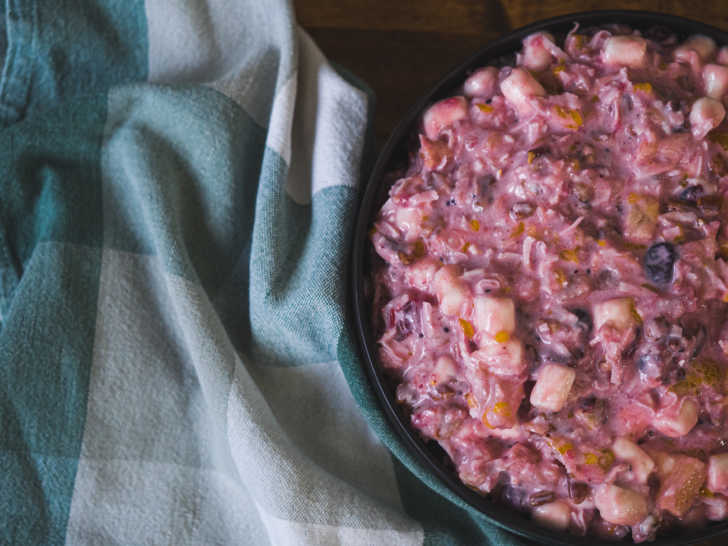 Christmas ambrosia, like other sweet salads, is incredibly simple to make. The difference in this recipe is the addition of cranberry sauce and pecans to make it more seasonally festive. However, you could easily adapt the ingredients or ingredient ratios to suit your family.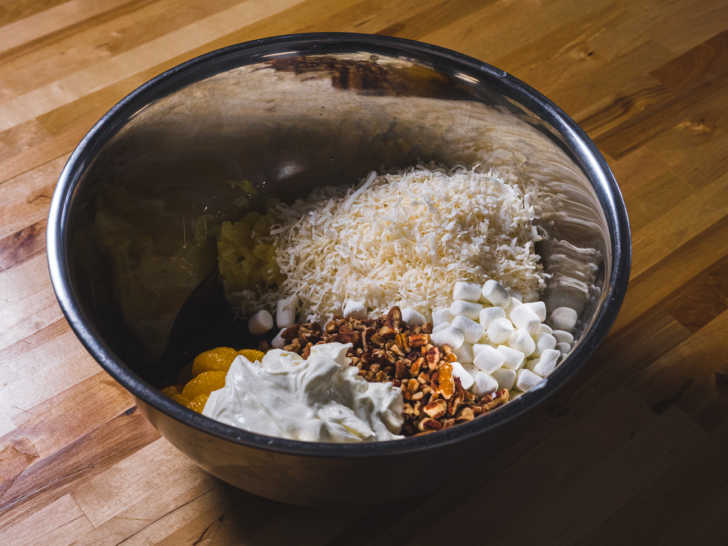 For instance, the addition of orange-flavored, whole, dried cranberries could be a nice touch. You could also add chopped pistachios or almonds instead of pecans if you prefer.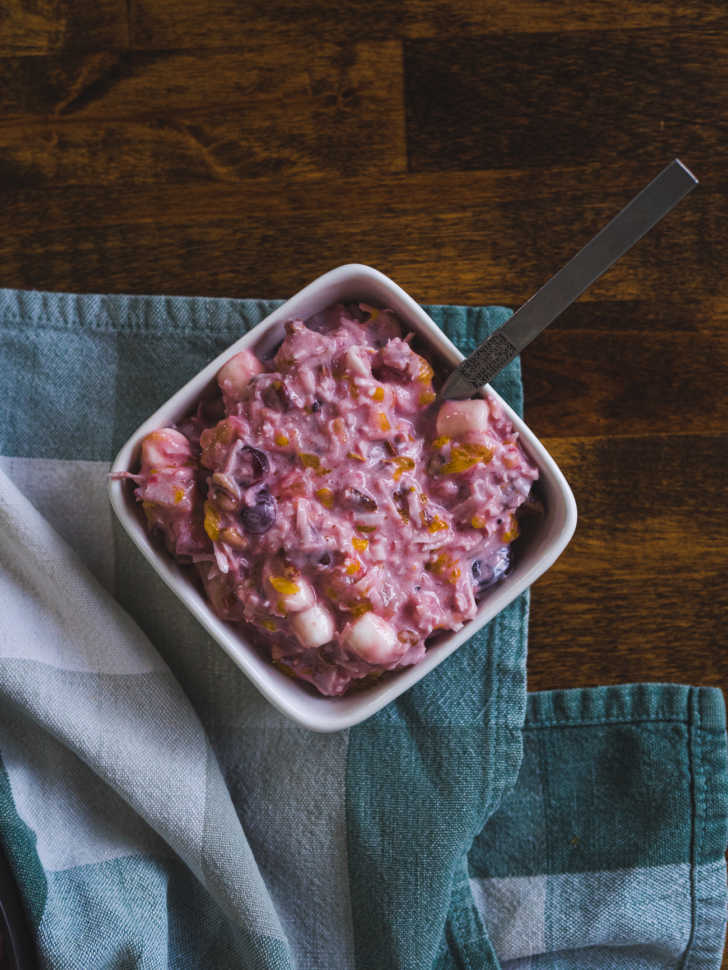 You can also change the canned fruits, like adding fruit cocktail instead of just pineapple. The ways to make this dish your own are endless.
Once the ingredients are combined, the whole thing needs to be refrigerated for a long time before being served (4 hours to overnight). This ensures that the sour cream and marshmallows are the right texture and temperature. It also means that the flavors have some time to incorporate nicely together.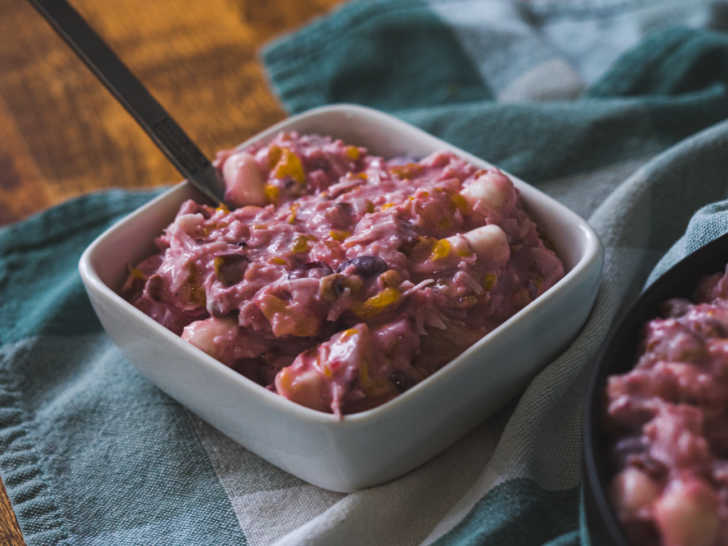 If you're a fan of this style of sweet fruit salad, then give this holiday version a try. It's a nice take on cranberry dishes that is a lot more palatable than just plain old canned cranberry sauce.
Serve this in a nice dish and watch it disappear from the table on Christmas Day. Try it for yourself and see how magical ambrosia can be.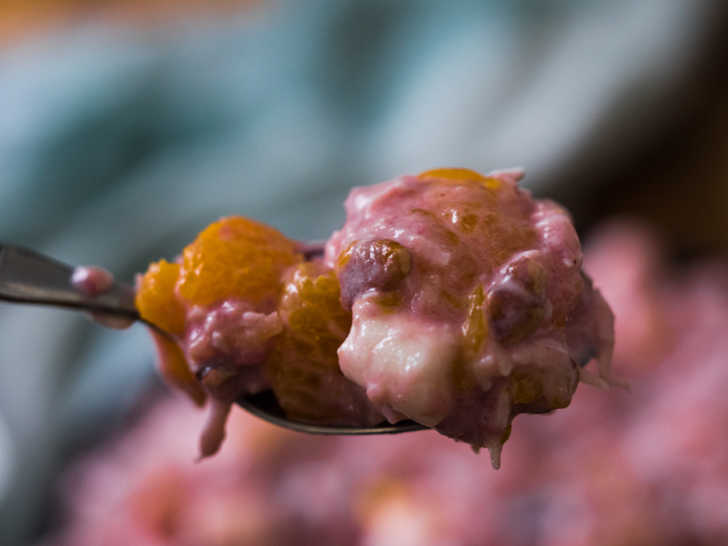 Christmas Ambrosia Salad
Serves 6
5 minutes active, 4 hours inactive
Ingredients
1 (14 oz) can whole berry cranberry sauce
1 (8 oz) can crushed pineapple, drained
1 (8 oz) can pineapple tidbits, drained
1 (15 oz) can mandarin oranges, drained
2 cups miniature marshmallows
1 1/2 cup shredded coconut
1 cup sour cream
1 cup pecans, chopped
Preparation
In a large bowl, stir together the cranberry sauce, pineapple, oranges, and coconut.
Add the sour cream and stir to combine. Gently fold in marshmallows and pecans.
Cover and chill, at least 4 hours and up to overnight. Serve and enjoy!
Recipe adapted from Daily Dish Recipes.