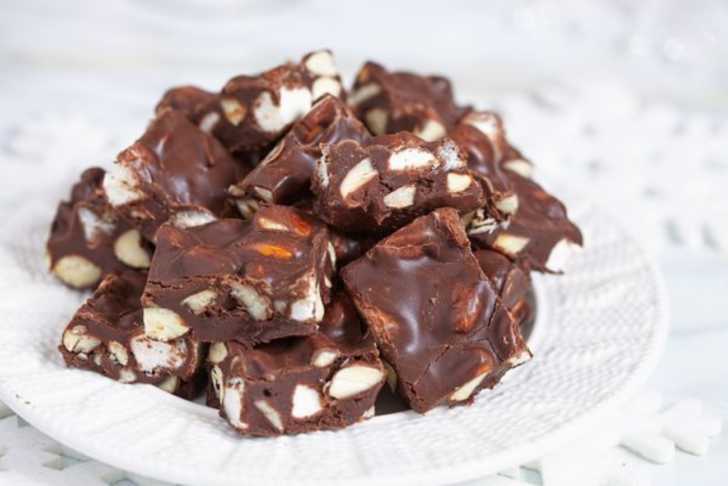 Fudge is always a lovely treat, but do you know what's even better? Fudge with almonds and marshmallows. We love Rocky Road ice cream, so thought it would be really cool to see how we could recreate our favorite flavor in a totally different dessert. And it turns out that flavor combo lends itself perfectly to this easy-to-make fudge! The marshmallows lend a nice soft and chewy bite while the almonds give the fudge an irresistible crunch. It's really good stuff!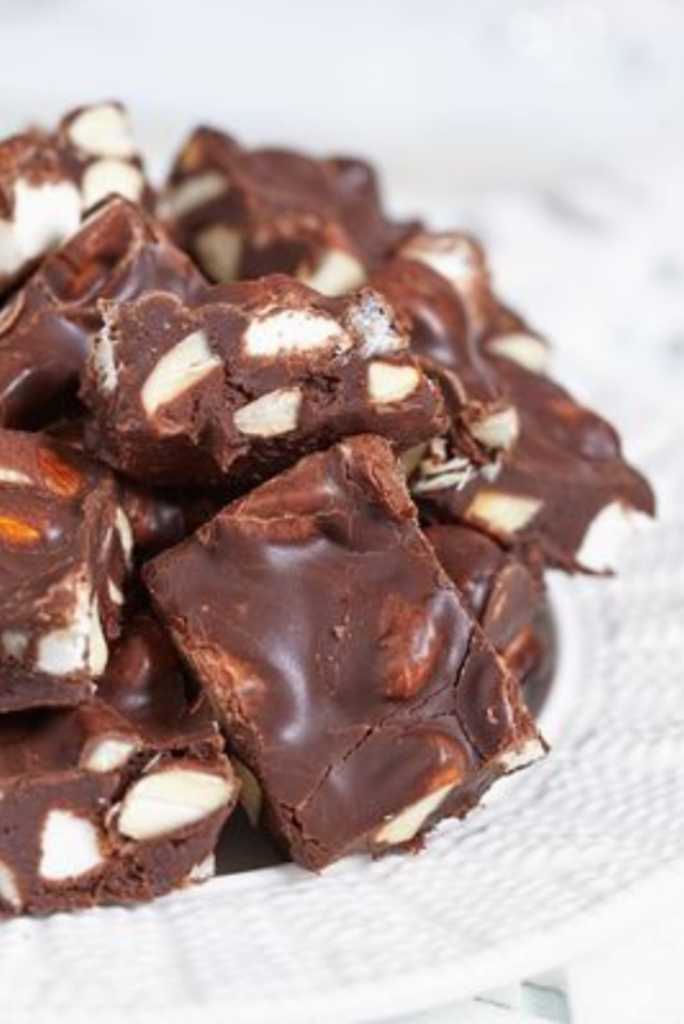 The beauty of fudge is that it's really not all that difficult to make. You might even already have the ingredients and you only need to clean one pot! Another great thing is that, because it's so rich, a little goes a looong way. You'll be noshing on these little square morsels for days to come… unless other people know you've made it! Then you'd better get some while you still can!
Rocky Road Fudge
Ingredients
1 (12 oz.) bag semi-sweet chocolate chips
1 (7 oz.) jar marshmallow fluff
1 (5 oz.) can evaporated milk
2 3/4 cup sugar
2 cups mini marshmallows
1 1/2 cup almonds, chopped
3/4 cup unsalted butter
3/4 teaspoon vanilla extract
Preparation
Line a 9x9-inch baking dish with aluminum foil and set aside.
In a large saucepan over high heat, combine evaporated milk, butter and sugar. Stirring continuously, cook until temperature reaches 235º F. Remove from heat.
Pour in chocolate chips and stir until completely melted. Then add in vanilla extract.
Stir in marshmallow fluff until completely incorporated. Then gently fold in almonds and marshmallows. It's okay if they're not completely covered.
Pour fudge into baking dish and refrigerate for at least 2 hours.
When ready to serve, extract aluminum foil, cut fudge into squares and transfer to serving tray.
Recipe adapted from Premeditated Leftovers