If you want a casserole that the entire family will love, this is the one. Picky eaters will have no choice but to bow down to the cheesy creaminess of this dish, and you'll find yourself applauded by the masses after churning this out!
We'll warn you now: you're going to want to devour the entire thing once you taste that first bite, so wear your stretchy pants, or invite enough people to dinner that you don't have to worry about eating six portions (or forget that completely and eat all you want, we'll never tell)! Whatever you decide to do, try out this pasta casserole because we know you'll absolutely love it.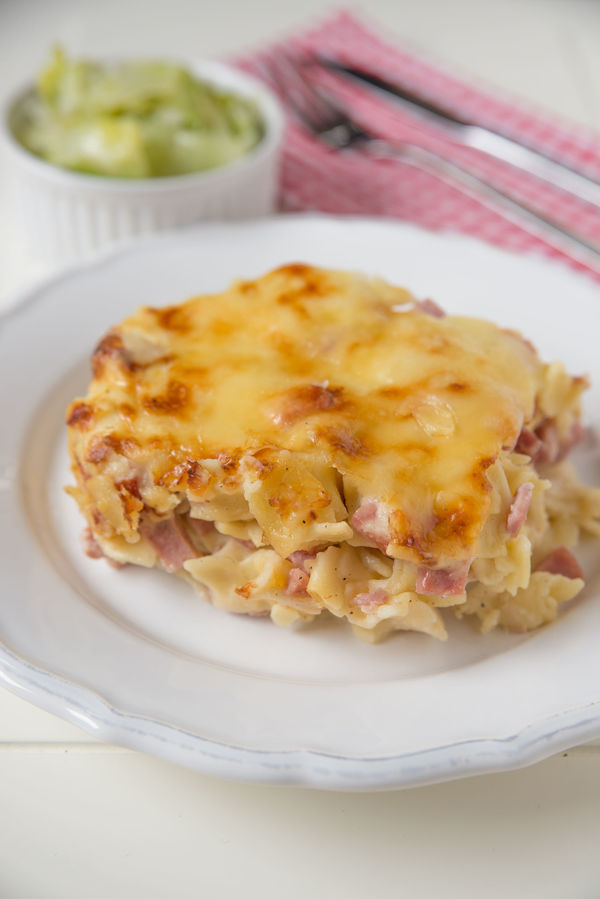 Prosciutto Pasta Casserole
Ingredients
1 pound casarecce or fusilli or shell pasta
1/2 pound prosciutto, thinly sliced
1 quart whole milk or heavy cream, room temperature
1 1/2 cups fontina or Gruyere cheese, grated
1/2 cup parmesan cheese, grated
1/2 cup all-purpose flour
1/2 cup (1 stick) unsalted butter
1 pinch freshly grated nutmeg
kosher salt and freshly ground pepper, to taste
Preparation
Preheat oven to 400º F and lightly grease a 9x13-inch baking dish.
Bring a large pot of salted water to boil and cook pasta until just al dente. (Don't overcook.) Drain and set aside.
In a large saucepan over medium heat, melt better. Sprinkle flour into butter and whisk mixture for until smooth, with no remaining lumps. About 2 minutes.
Continue to stir and slowly add milk or cream to butter flour roux. Whisk until smooth and creamy.
Cook bechamel for 8-10 minutes, or until thickened.
Once thick, remove from heat and season with nutmeg, cheeses (reserve 1/2 cup fontina), prosciutto, salt and pepper.
Return pasta to pot and pour prosciutto and bechamel sauce over the top. Stir so that everything is thoroughly coated.
Pour pasta into baking dish and top with remaining fontina. Bake for 25-30 minutes, or until cheese is bubbly and golden brown.
Remove from oven and serve hot.
Recipe adapted from Chow