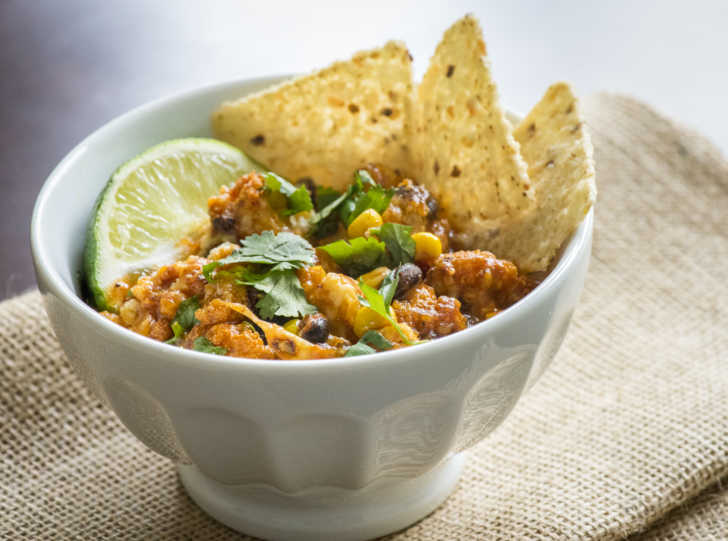 While everybody has foods that they just don't love, no matter how hard they try, we feel like cauliflower gets a particularly bad rap…until now. Most people's issue with the veggie is that it's boring – which is primarily because it's not being cooked in a way that lets it shine in all its glory.
In an effort to change everyone's mind about cauliflower, we bring you this tasty enchilada bake. Packed with all the flavors you know and love about traditional enchiladas, we've stuffed this one with deliciously roasted cauliflower (the best way to make it!), so you can throw this together, then kick back and enjoy how great this dinner is!
Check out the simply amazing recipe below, and be prepared to fall in love with cauliflower. We have a feeling you'll be a convert in no time! >>>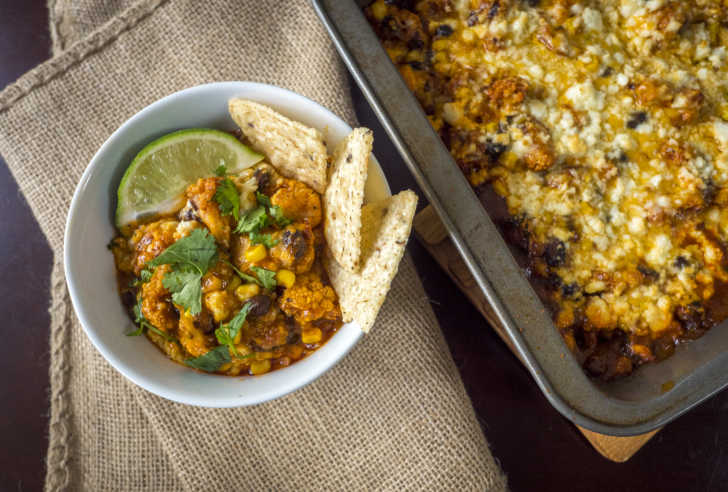 Cauliflower Enchiladas
Ingredients
1 large cauliflower, cut into florets
1 (15 oz.) can black beans, rinsed and drained
2 cups red enchilada sauce
1 cup corn
3/4 cup sharp cheddar cheese, grated
3/4 cup monterey jack cheese, grated
1/2 cup cotija cheese, crumbled
1 tablespoon olive oil
1 tablespoon chili powder
1 teaspoon cumin
1/2 teaspoon oregano
kosher salt and freshly ground pepper, to taste
fresh cilantro, finely chopped, garnish
limes, garnish
Preparation
Preheat oven to 400º F.
Toss cauliflower florets in olive oil and season generously with salt and pepper, then spread them out in an even, single layer on a large baking sheet.
Place in oven and roast for 20-30 minutes, or until slightly caramelized and fork tender. Stir them and turn them over halfway through roasting.
Reduce oven temperature to 350º F.
Transfer cauliflower to a 9x13-inch baking dish and add beans and corn, then pour in enchilada sauce, and season with chili powder, cumin and oregano.
Season with salt and pepper, then stir everything together until evenly coated.
Sprinkle with cheddar cheese and monterey jack, then place in oven and bake for 20-25 minutes, or until cheese is melted and bubbly.
Remove from oven and serve hot with cotija cheese crumbles on top, fresh cilantro and a squeeze of lime. Enjoy!
Recipe adapted from Closet Cooking