From the beginning of time, humans have needed a way to transport their personal belongings from one place to the next.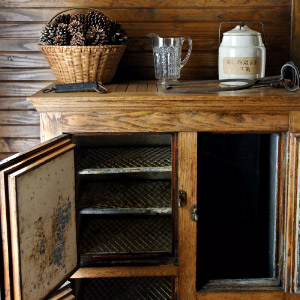 Dusty Old Thing
From the beginning of time, humans have needed a way to transport their personal belongings from one place to the next. Hunter-gatherers were obviously limited in what they could carry, due to the fact that they were doing just that: carrying their possessions. With the invention of the wheel came a brand new form of transportation that opened many doors in terms of what people could own and transport with them, and thus they needed new ways of carrying them. Trunks and chests eventually became very well used household items, and we're taking a closer look at their rise to popularity and how to go about collecting them today!
History
Chests and trunks date back to at least medieval times, but really gained momentum in the Victorian Era, starting around the 1870s. At this point, cross-country railroads were established, as well as inter-continental travel by water, so long-distance traveling was much easier and it was also much easier to transport more of one's possessions.
At this point, we should point out the difference between a chest and a trunk. While trunks were mainly used for traveling and transporting possessions from point A to point B, chests are generally considered fixed and permanent pieces of furniture, usually used for storing things such as blankets and assorted bedding. For this reason, chests can be more ornate, while trunks have a more practical form of decoration.
Like many things in the Victoria period, trunks started out with a pretty simplistic design and grew to be much more intricately designed. Initially composed as just a lockable, wooden box with a paper-lined interior (either decorative paper or something simple like newspaper), trunks soon came to be covered in leather, paper, canvas and some form of metal hardware (e.g. embossed tin), and came to have different compartments, drawers, trays and hangers that made them all the more functional.
Although trunks were often used by people when they traveled by carriage, they became truly ubiquitous between the 1870s and 1920s, solidifying their position in history and paving the way for our continued interest and their continued use.
Different Types
Flat-Topped: Pretty self-explanatory, these trunks had (mostly) flat tops and were primarily used for travel, as they were easy to stack and store on trains, ships and carriages. They were made out of a mix of materials: wood, leather, canvas, metal detailing, sometimes covered in waterproof fabric.
Dome-Topped: Similar to the flat tops in that the name implies the shape, these trunks had noticeably domed tops and were therefore less used for travel purposes. They are also referred to as round top, camel, barrel and humpback trunks, and are frequently made of embossed tin.
Slatted Trunks: These are beautiful trunks as they were composed of thin, wooden slats, one placed next to the other. They made for very sturdy construction and were an example of elegant craftsmanship.
Jenny Lind: This trunk became popular in the 1850s and 60s when famous Swedish singer, Jenny Lind, toured in the U.S. for two years, taking with her everywhere a very particular type of trunk. Looking at it from the side, it resembles an "8" (or a loaf of bread) because it curves inward in the middle, where it latches.
Travel/Steamer Trunks: Mostly flat tops, these trunks were made and designed for traveling purposes and being places in snug spaces. To use, you stand the trunk up on its end and open it to reveal separated compartments on each side.
Wall Trunks: These trunks, while very similar-looking to other types, were distinctive in their hinge mechanisms and the manner in which they opened and closed. They were designated for small spaces because, unlike the standard trunk, you could push these flush up against the wall and open the top without having to leave several inches of space for the open top lid.
Saratoga: Saratoga trunks are named after Saratoga, NY, a very popular vacation spot for the wealthy in the 1800s. Definitely one of the fancier varieties, since they mirrored the affluence and wealth of their owners, Saratogas were round topped (how catalogues referred to dome-topped trunks), made of leather, canvas or metal, and were usually decked out with decorative hardware.
Brands
– Famous brands include:
– Louis Vuitton
– Truesdale
– Moynat
– Goyard
– Hartmann
– Malloy
– Oshkosh
– Taylor
– Clinton
– Shwayder Trunk Company (nowadays known as Samsonite)
Collecting
While we no longer really use trunks as luggage anymore (due in large part to airline restrictions and costs), there is still an innate appreciate for trunks and people have found many useful ways to put them to use in their households. Nowadays, trunks are more synonymous with chests, as we are more likely to use them as side tables, coffee tables, dressers, benches, cabinets and just general storage units. Since there was such a large production of chests in the past several hundred years that means there are many to be snatched up and put to new use in your home. Read on for some tips and things to keep in mind while you search!
1) To be considered antique, trunks must be at least 100 years and cannot have been restored. This greatly affects their value and should definitely be taken into consideration when you're looking to start or expand your collection. However, if you find trunks that have been restored, well-restored pieces are still much more valuable than poorly-restored ones.
2) If you're not looking in person, search for sellers that include photos of all the small details of the trunk. Inside lining, close-ups of hardware and lock, maker's mark, etc Keep an eye out for patches of any sort that might be obscuring damaged parts.
3) While it's normal for trunks to have acquired the average wear-and-tear, value is lost if there are holes, missing pieces, replaced hardware or refinished varnish.
4) Pay attention to the small things. Expensive and custom-made trunks usually featured leather and brass accents that separated it from the typical black metal finishes.
5) Do your research to determine what type and style of trunks you're looking for. This will help you specify your search and you can go from there. Also keep in mind, shipping trunks can be very expensive (since they're usually pretty heavy), so you might want to factor in the seller's location into your search.
It's both a blessing and a curse when what you're collecting was and is a popular item, but we hope you're able to take something away after reading this and enjoy your search…. Good luck and happy hunting!