This version was leaked to radio stations and became a smash hit!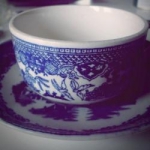 Rose Heichelbech
When Tommy James and the Shondells recorded "Crimson and Clover" in 1968, there were a few kinks they wanted to work out of the song. But, the tune was leaked and played on the radio to great acclaim, hitting #1 very quickly. The album version is 2 minutes longer than the leaked radio version that became so popular at the time and presumably that is how the group had really wanted the song to sound.
"Crimson and Clover" spent months on the charts and was one of the first songs to be recorded on 16-track equipment and also one of the first hits to utilize the tremolo effect for vocals by plugging the vocal microphone into a special amplifier. In what became one of the most iconic songs of the '60s, Tommy James and the Shondells had created a new sound, laid on a simple love song. Have a listen to this wonderful hit and we bet you'll feel like slow dancing again, just like in high school! And, you can hear another classic '60s song right here.