We'd almost forgotten about this song.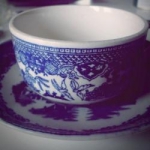 Rose Heichelbech
In 1965, Dick Clark introduced a lively song on American Bandstandthat the kids seemed to enjoy. However, none of them apparently knew how to do the dance mentioned in the song. The tune was Jackie Lee's "Do the Duck" which was released in 1965. Lee (AKA Earl Nelson) also performed with Bobby Bird as one half of the group Bob & Earl who were releasing songs at the same time as Nelson was releasing work under his alternate solo identity.
At the time, the dance craze was hitting its height. The song mentions The Swim: "If you've come here to Swim, oh man you're out of luck." Regardless, the kids on American Bandstand, (shockingly for the time) don't seem to know how the dance goes and they aren't doing The Swim, either! Have a look in the fun video below. Do you remember how to do The Duck?