And just check out who sponsored the show!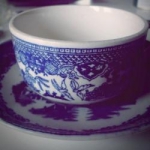 Rose Heichelbech
Maurice Williams and the Zodiacs' song "Stay" quickly shot up the music charts in 1960-61 with the unmistakable sweetness and rhythm that made this song a classic. "Stay" remains one of the most iconic of the era (even to this day) and has graced the soundtracks of films like American Graffiti (1973) and Dirty Dancing (1987), among many others.
Williams had actually written the song all the way back in 1953, but it wasn't until he'd been singing for a few years professionally that the song was shopped around to recording studios. Williams initially wrote the song about a date with a girl, Mary Shropshire, who his 15 year-old-self just couldn't bear to part with at the end of the night- how sweet is that? Fun fact: this is the shortest song to have ever made it to #1 (it clocks in at less than 2 minutes long)!
This 1960 performance comes from The Village Square, a mod TV show based out of Charleston, South Carolina, which would later become a nationally syndicated program. The sponsor advertisement behind the group was for asbestos, a product which was still 13 years away from being partially banned for safety reasons. What a different time it was! Have a listen in the clip below.