Some Things That Delight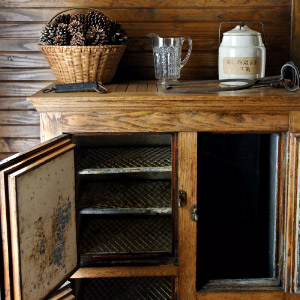 Dusty Old Thing
Good morning from Dusty Old Thing! Every once in a while we see posts made by our readers that just give a sense of delight. Sometimes it's the antique itself. Sometimes it's the story or the meaning or how it pulls us back in time. Sometimes it's the creativity. Sometimes it's "the fun of the hunt". Here are a few that delight…
Oh, now we all get to remember all the Ferris wheels we've enjoyed… We can imagine, too, how wonderful it must have been to have grandparents who owned a carnival. We love how this seat was saved and mounted using flooring from the family home. It is beautiful and will delight children of all ages for generations. Thanks, Shelly, for sharing it with us.
Shelly also posted aphoto of an entrance hall in their home in which they are using colorful wooden yard sticks on the wall. We love her enjoyment of color. and creativity.
Sue's photo shows such a classic Easter dinner. There's the ham, the whipped potatoes, a marshmallow-topped gelatin, eggs and pickles and olives on what looks to be a vintage tablecloth. Now we're hungry, too!
Haywood-Wakefield furniture from the middle of the 20th century seems to be getting more attention from collectors. The company is one of those that completely changed its focus to keep up with changing tastes. Its roots go back to 1826 with the Heywood Brothers, and to 1855 for the Wakefield Company. They merged in 1921. They started with wicker furniture, changing designs to keep up with trends. However, in the 1930's they moved to produce sleek and modern wood furniture, generally with Art Deco lines in the French tradition. They also began producing metal furniture and furniture for schools.
In the early 1990's, investors in Miami, Florida, through their South Beach Furniture Company, acquired the naming rights & other assets from a struggling Haywood-Wakefield. To create furniture that would fit the architectural styles of South Beach, they began the reproduction of the H-W designs, now called "Streamline." You can see their dining room furniture here to see that classic 40's and 50's look.
Thank you, Sue, for sharing your Easter table with us!
Ah–hhh. The fun of winning at auction! Good going, Shari!