We can't help but covet a few of these styles, though!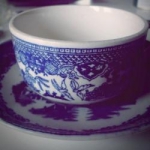 Rose Heichelbech
From fedoras to mink hats to nail polish, is there anything women won't steal from men? This hilariously sexist film reel from the 1960s puts that very question to the viewer. With so many changing styles in the Swingin' Sixties its no surprise that the old guard frequently questioned the soundness of some of the more outrageous styles.
In this British Pathé clip from 1962, a few new fashions for women are showcased, including some truly unique nail polish colors which would not be regularly available in the cosmetics aisle until decades later. Also featured are some darling designs by the young Mary Quant. It would be a few years before she had her own line of makeup, though. We can't help but laugh at the blatantly sexist fashion video below. If you enjoyed it as much as we did, then click "Next Page" at the bottom of the page for some of the beauty ideals we used to follow!