These magic shoes need some help.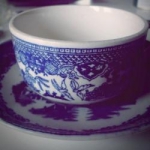 Rose Heichelbech
We all have a soft spot for some of our favorite movies. But, there is one film that really captured our childhoods. The Wizard of Oz has long been a family favorite for many of us, and the ruby slippers that Judy Garland wore when she played Dorothy are some of the most iconic pieces of Hollywood costuming history. These shoes remain a symbol for many of us of the power of imagination. But, these wonderful shoes are showing their age after all these years. And, it isn't just about looks, either.
The ruby slippers have begun to fray and fade, leaving them at risk for disintegration and worse. The Smithsonian National Museum of Natural History, which houses these screen treasures, has had the shoes in their collection since 1979. Scores of Oz fans come each year to behold the once-bright shoes under glass.
The problem with restoring these shoes lies in the many different materials used to the make them. Gelatin sequins, felt, glass, thread, and more were used to fabricate these now-fragile shoes. The various materials all need to be preserved in different ways, which can be costly. The Smithsonian has recently launched a Kickstarter campaign in order to help raise funds for the restoration and preservation of these legendary film props. Watch the video below to learn more about this ambitious project. And, if you're interested, click here to go to the donation page.