Just wait until you hear it again. You'll be snapping your fingers in time.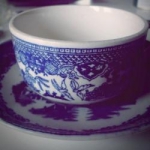 Rose Heichelbech
On June 5, 1966, Roy Orbison graced the American Bandstand set with one of the most iconic songs he's ever sung. Released on Monument Records from Roy Orbison and the Candy Men, "Oh, Pretty Woman," as one of the top songs of 1964 was the tune of the moment when Orbison made this television appearance. Between 1960 and 1964, he had more than 20 hits! Orbison's incredible song-writing talent and unusual voice made him appear full of passion, but also like a regular guy with everyday problems. His wavering voice and heartfelt lyrics made his songs distinctive love ballads.
Have a listen to one of the best songs of that era and watch as the crowds sway in time to this effortless classic. Orbison is cool as a cucumber in his Wayfarer shades! And, you can watch Elvis Presley's ground-breaking performance on The Ed Sullivan Showright here.