We'd forgotten how wonderful his voice is!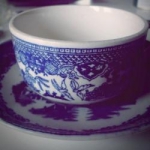 Rose Heichelbech
Known for his stellar football skills, playing first for Penn State and then for the L.A. Rams, Roosevelt Grier would go on to lead many lives. Some would say his other pursuits never overshadowed his role as one of the Fearsome Foursome of football, but we think they just might! "Rosey" Grier appeared on such classic TV shows as I Dream of Genie, The Love Boat, and The Man form U.N.C.L.E. In 1968 Grier even had his own TV variety show. He was there the night the Bobby Kennedy was shot and even disarmed Sirhan Sirhan in the Ambassador Hotel. In 1973 he published his first book of needlepoint designs. And if you thought that wasn't enough, the man also had a singing career!
This one-of-a-kind personality was never satisfied doing only one thing and proved himself to be formidable celebrity even after an Achilles tendon injury ended his football career. Watch as he performs "Fool, Fool, Fool" on American Bandstand from 1964. And for another great hit from the '60s click here.