After all these years, this song still puts a smile on my face.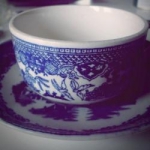 Rose Heichelbech
Named after Veronica "Ronnie" Spector (nee Bennett), this iconic girl group was pure '60s. From their timely songs to their bell bottoms to their tour with the Beatles, the Ronettes were one of the truly great acts of the era. "Be My Baby" was released as a single in 1963 and later on the album Presenting the Fabulous Ronettes featuring Veronica.
Brian Wilson has been famously obsessed with the song since he first heard it over 50 years ago, having listened to it over 1,000 times (by his estimation) in order to try to reproduce the big drums and studio quality for the Beach Boys. An inspiration to many artists, this song is a true classic. But, more than that, this song takes us back to another time and reminds us of the things that were really spectacular about the '60s.
In this energetic performance of the song, Ronnie dances around the stage as the crowds go wild, all while go-go dancers shimmy in the background. It doesn't get more '60s than this and we love it.
https://youtube.com/watch?v=8-0upHlWfQ4