The world was simply captivated, as was her fiancé.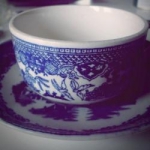 Rose Heichelbech
From 1949 comes this newsreel footage of Rita Hayworth and Ali (or Aly as the press reported often) Khan getting married near Cannes, long before the seaside town was known for its film festival and movie royalty. This occasion marked the first time that a Hollywood star married into a royal family (of course Grace Kelly and Megan Markle would follow years later). Although not a prince of any locality, Kahn was the playboy son of Aga Khan, Imam of Nizari Ismailis, a title with worldwide significance.
Khan was half Italian, spoke several languages, and spent much of his time in Europe. After Hayworth and Kahn met on the French Riviera and romance ensured, he followed her back to Hollywood, all the time plying her with gifts and romantic gestures. The two were married in 1949 to worldwide fanfare and a blitz of paparazzi and press, although their marriage would end up being a short one. This was the second marriage for Khan and the third for Hayworth. Have a look at their civil ceremony and the glamorous reception that followed in the video below.