Comfort Food Recipe: Baked Mac 'n Cheese with Prosciutto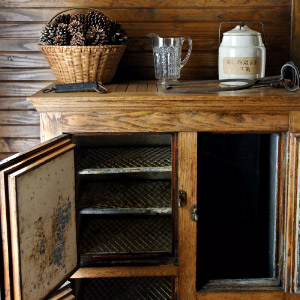 Dusty Old Thing
Here's a delicious twist on a family favorite. Try boosting the flavor in tradition mac & cheese by adding prosciutto. Make no mistake: this is one rich recipe. But when you're craving comfort food, it's got the perfect cheesy/tangy flavor combo that you won't be able to resist.
This particular variation calls for GruyËre and parmesan cheese, but feel free to experiment with other types to suit your tastes. We love the fact that there's even a tad bit of nutmeg in here. Who would've imagined this unlikely mixture of flavors could meld so perfectly together!
Baked Macaroni & Cheese with Prosciutto
(makes 6 servings)
Ingredients:
8 ounces small elbow macaroni (2 cups)
1 1/2 cups (packed) grated GruyËre cheese
1 cup whipping cream
1 cup milk (whole or 2%)
3 ounces thinly sliced prosciutto, coarsely chopped
4 tablespoons grated Parmesan cheese
1/4 teaspoon ground nutmeg
Directions:
1. Position rack in bottom third of oven; preheat to 400∞F. Butter 11×7-inch glass baking dish.
2. Cook macaroni.
3. Meanwhile, whisk 1/2 cup GruyËre, cream, milk, prosciutto, Parmesan and nutmeg in large bowl to blend.
4. Once macaroni are cooked, toss them in the sauce until well coated. Season with salt and pepper.
5. Transfer to prepared baking dish. Sprinkle remaining 1 cup GruyËre over. Bake until cheese melts and macaroni and cheese sets, about 20 minutes.
6. Serve warm. Enjoy!
Adapted from Epicurious.